13 Incredible Health Benefits of Ashwagandha
Ashwagandha or Indian Ginseng health benefits includes stimulating thyroid gland, ideal for diabetes, maintaining cholesterol levels, treating cancer, supporting immune system, promoting blood production, fighting bacteria, reducing inflammation, supporting eyesight, promoting muscle growth, and relieving stress and anxiety.
Studies have shown that ashwagandha could function to treat inflammation, oxidation, stress, and insomnia. Nutritionists also suggest that regular use of the herb can improve musculoskeletal problems as well such as rheumatism. Apart from this, ashwagandha is said to be an effective source of various health problems like high cholesterol and high blood sugar levels.
What is Ashwagandha?
The herb belongs to Solanaceae family, and it is scientifically known as Withania Somnifera. Ashwagandha belongs to India and widely grows in dry regions. The plant remained famous in herbal medicine for centuries, and later, medical studies also proved its wondrous health benefits.
You can find powder of ashwagandha root on the markets. It is widely used consumed in the tea form, and you can dilute it in a warm glass of milk depending on your preference.
Nutritional Value of Ashwagandha
Calcium 1%
Cholesterol 0 mg
Dietary Fiber 1 g
Iron 7%
Sodium 1 mg
Selenium 5 g
Total Carbohydrates 2 g
13 Incredible Health Benefits of Ashwagandha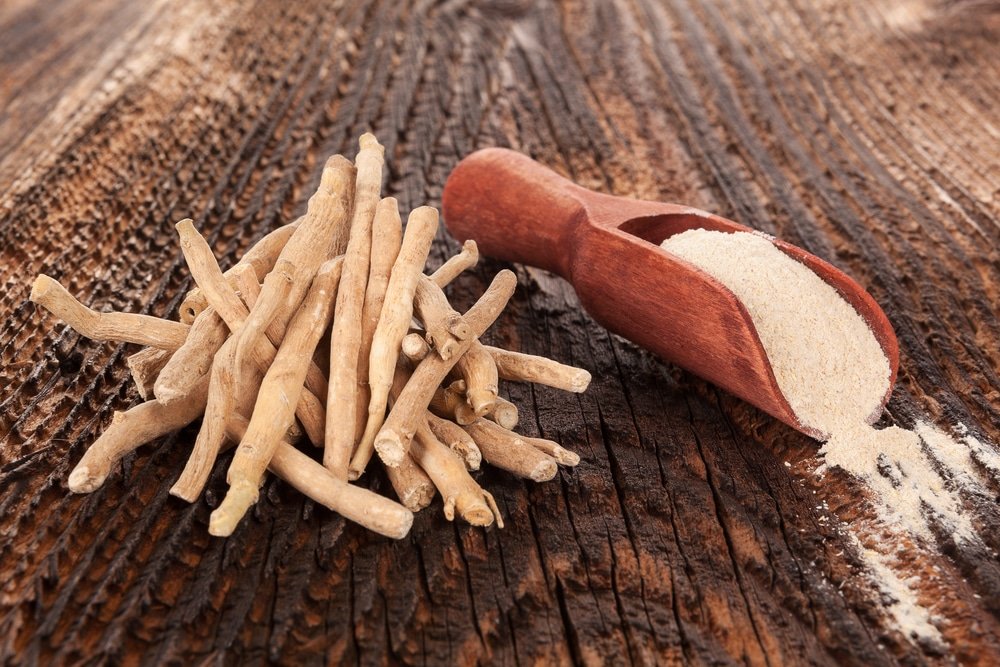 1. It Stimulates Thyroid Gland
Nutritionists have recommended that you can opt for ashwagandha tea in case of hypothyroidism. Studies have proved it as a stimulant that can be utilized regarding thyroid gland stimulation. The extract obtained from ashwagandha is a natural source to increase thyroid hormones secretion.
Moreover, consuming tea made with ashwagandha root is said to alleviate risks that contribute to thyroid problems. However, it is suggested to seek professional help in this regard and do not try to treat thyroid problems via home remedies.
2. Ideal for Diabetics
You can maintain your sugar levels in diabetes. Many studies have concluded that incorporating ashwagandha root in the diet of people with diabetes is useful. It allows patients to reap plenty of nutrients and help maintain sudden spike of sugar in the bloodstream.
A recent has shown that consuming ashwagandha in any form can significantly decrease blood sugar levels post meals within few weeks. Moreover, nutritionists encourage people with diabetes consulting with the endocrinologist and refrain from self-medication in case of high blood sugar levels.
3. Maintains Cholesterol Levels
Ashwagandha is a powerhouse of anti-inflammatory and anti-oxidation properties – that indicates it could be a useful source to treat cardiovascular problems. Nutritionists state high cholesterol levels are one of the factors associated with chronic cardiovascular diseases.
The hypolipidemic compounds in the root functions to lower cholesterol in the bloodstream. Therefore, heart patients can incorporate it into their daily routine after the permission of their cardiologist. Moreover, the components found in the ashwagandha root are potent enough to strengthen your heart muscles as well.
4. Treats Cancer
A recent study has revealed that ashwagandha could become an effective option when it comes to treating cancer. The components found in it contain cancer-killing properties. Ashwagandha is said to alleviate adverse effects associated with chemotherapy as well.
5. For Immune System
The strong immunity can prevent you from various infectious bacteria, viral infections, and free radicals. Thus, you need to opt for potential sources in this context. Ashwagandha is loaded with antioxidants – a nutrient that your body needs in abundance. When your body has adequate amounts of antioxidants, it will begin strengthening your immune system protecting it from falling prey to health-damaging factors.
6. Promotes Blood Production
Nutritionists suggest that ashwagandha root has potential to promote hematopoiesis – a process of producing new blood in your body. When consumed regularly, it will promote the development of red and white blood cells that also helps prevents a symptom of anemia.
Health experts also recommend maintaining blood levels in your body to avoid conditions such as dizziness and sudden fatigue. An adequate level of blood in your also keeps you energized. Hence, you can opt for ashwagandha to produce the required amount of blood.
7. It is antibacterial
Enriched with antibacterial properties, consuming it's tea can effectively ward off infectious bacteria. Nutritionist encourages incorporating it into your daily routine as it a natural source to maintain your overall well-being from the adverse effects of bacteria. You can also consume the tea made with it's powder to combat seasonal colds.
Moreover, it could be a safe source to treat gastrointestinal, urinogenital, and respiratory tracts infections effectively if consumed regularly. However, you should refrain from incorporating it into the diet of children as no evidence is available in this regard.
8. Reduces Inflammation
Like antibacterial properties, ashwagandha root is a powerhouse of anti-inflammatory components. When consumed in cases of inflammation, it functions as cyclooxygenase and alleviates uncontrollable pain caused by inflammation.
Apart from this, you can obtain saponins, steroidal, and alkaloids lactones from ashwagandha root to prevent symptoms associated with muscles and joints pain. Consulting with your primary care provider in case of severe joint inflammation is suggested to avoid further health problems.
9. For Eyesight
You can reap antioxidants and cytoprotective properties from the ashwagandha root that will help prevent chronic eye diseases such as cataracts. Moreover, studies have shown that regular consumption of the ashwagandha tea can improve the condition of your weak eyesight alleviating symptoms of dry eyes. Although natural sources do not contain adverse effectsbut, you should not rely on self-medication and opt for professional help when it comes to eye problems.
10. Promotes Muscle Growth
Muscle growth is also an essential body function. You can improve your muscular strengthen and alleviate weakness via it's root. Nutritionists suggest that incorporating it in diet has positive effect on the neuro-muscular functioning.
11. Relieves Stress and Anxiety
Various external and internal factors contribute to stress that has potential to affect your overall health. Ashwagandha can help in this regard. Enriched with anti-stress properties, consuming the ashwagandha tea can help reduce high levels of stress effectively. Apart from this, the herb contains a calming effect on depression and relaxes tensed nerves of your brain. Nutritionists state that sipping on a warm cup of ashwagandha tea can maintain your psychological health, but in case of depression, you should visit a psychologist.
12. Treats Insomnia
Insomnia is indeed a troubling health problem specifically when you want to sleep but unable to do so. Studies have proved that ashwagandha, enriched with calming properties can induce sleep into insomniacs. Nutritionists are also recommended it as a natural source to treat prolonged insomnia.
13. Boosts Energy
It is a powerhouse of plenty of nutrients and health benefiting properties. It has potential to boost your lower energy levels effectively allowing you to stay energized throughout the day.
Bottom Line
Treating various health ailments via natural source like ashwagandha is suggested as they do not contain adverse effects. Therefore, incorporate it into your routine and improve the quality of your life.