11 Amazing Benefits of Valerian Essential Oil
Valerian Essential Oil benefits includes relieving symptoms of restless leg syndrome, reduces mental stress and depression, improve digestive function, reduces appearance of wrinkles, help moisturize the skin, help treat eczema, improve bone health and regulate blood pressure. Other health benefits includes regulate blood pressure, reducing frequency of heart palpitations, promoting restful sleep and aid in wound healing.
What is Valerian Essential Oil?
The valerian root is a popular perennial herb native to Europe, some parts of Asia and the United States, which has since been used as a medicinal herb since ancient times, particularly in Rome and Greece, in fragrances and to treat cases of insomnia, and even in love "potions" that work to increase libido. The Valeriana officinalis oil is obtained via steam distillation of the roots of the valerian plant and its importance in maintaining health has now spread to different countries. It is currently used in modern medicine to relieve disorders of the nervous, digestive and integumentary systems, among many other things.
 11 Amazing Benefits of Valerian Essential Oil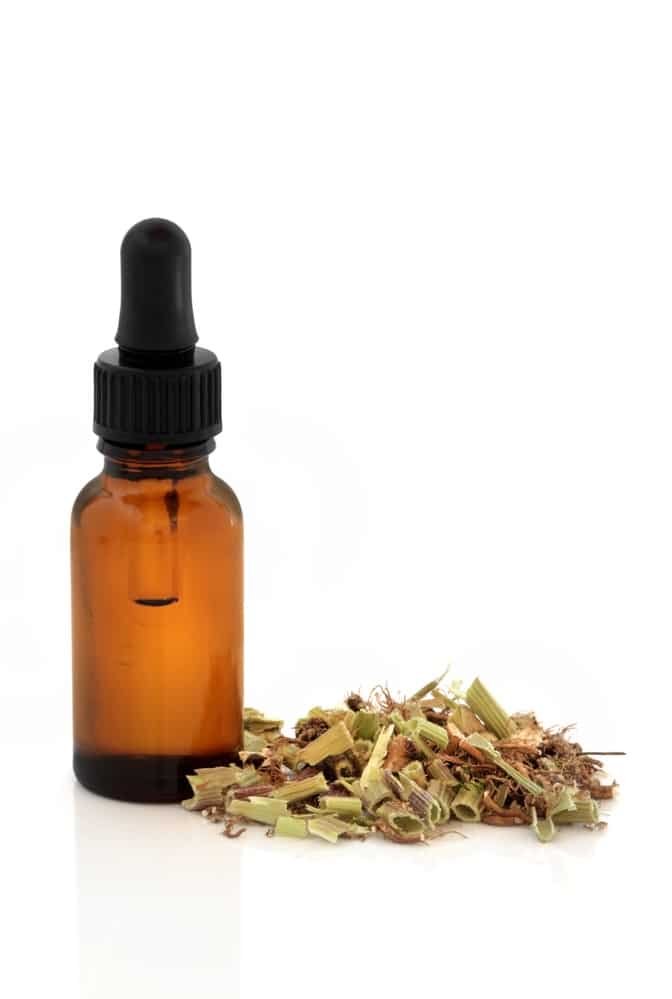 1. Help Relieve Symptoms Of Restless Leg Syndrome
Restless leg syndrome (RLS) is a leg disorder which prevents the leg from performing normally and may lead to decreased quality of life. It creates unbearable pain in the leg and does not allow the muscles and joint to move freely, occurring frequently alongside rheumatism and gout. It may even affect the arms due to lack of sleep, as such people with RLS and joint pain may have low energy, irritability and a depressed mood. However, regular application of valerian essential oil in little amounts may be helpful in treating joint pain and RLS in a short period of time.
2. May Reduce Mental Stress and Depression
Mental stress may be caused by a number of factors, including premenstrual syndrome, which by itself may trigger other health complications like lethargy and depression. Valerian essential oil is an important medicinal herb that may be capable of maintaining mental fortitude and controlling mild symptoms of mental stress and those associated with premenstrual syndrome. It may also improve sleep and the overall restorative quality of rest, which is essential in keeping the brain and its chemicals balanced.
3. May Improve Digestive Function
The main functions of the digestive system are the breakdown of food and transportation of by-products of digestion to the nearest exit. However, these processes may become slowed due to a number of factors over time. Valerian essential oil contains different types of compounds which can enhance quick and efficient digestion of food. As much as it helps in digestion of food, it also helps the digestive system to pass-out undigested solid waste substance, so the body will maintain health and get rid of waste in a timely manner.  Most of these compounds exert some function on improving the speed or efficiency by which digestive processes are carried out, ensuring nutritional absorption is enhanced.
4. May Help Reduce Appearance Of Wrinkles
Skin wrinkling may be as a result of continuous exposure to ultraviolet rays or from natural causes like ageing. Valerian essential oil contains ingredients with antioxidant properties which help in skin maintenance and may help to remove spots. In addition, regular application of the oil can help to significantly reduce the appearance of fine lines and wrinkles from the skin. Valerian essential oil also helps to assist with quick recovery from skin cuts, wounds, burns and even skin infections thereby adding years of beauty to the skin.
5. May Help Moisturize The Skin
Valerian essential oil may be regarded as one of the best essential oils used in skin care products since it helps to keep the skin cool, fresh and moisturized all day. Another important use of the Valerian essential oil that is associated with regular use is that it may be effective in preventing the skin from developing open sores as a result of preventing cracks for forming on the skin. Moisturizing is an important part of a skin care regimen that does much more than keep the skin looking good, as well hydrated skin is less likely to lose excess moisture, and help in management of more serious skin conditions as will be seen shortly.
6. May Help Treat Eczema
Dermatitis is sometimes also referred to as eczema, a disease which may cause redness or inflammation of the skin. Valerian essential oil can be a good cure for eczema as it is able to combat skin dryness which may result in itching, changes in skin color, development of a bumpy rash and skin plaques (accumulation of multiple layers of skin). It may completely cure skin ulcerations, psoriasis and other skin diseases since it contains antibacterial agents that prevent the destructive activities of bacteria on the skin.
7. May Help Improve Bone Health
The root of the valerian plant from which the essential oil is derived contains compounds that may be able to reinforce the structural integrity of bone, being able to reduce the likelihood of developing bone diseases such as osteoporosis. Valerian can also soothe painful nerve pain localized in muscle or intractable bone pain.
8. May Help Regulate Blood Pressure
Regular intake of Valerian essential oil in moderate quantities may have the capacity to regulate blood pressure. This regulatory effect of the valerian essential oil is said to have benefits on the health of heart muscle and the blood vessels, reducing the risk of heart complications like myocardial infarction or even a hemorrhagic stroke. Valerian essential oil is also well known for its anxiolytic properties, which can offset hypertension that occurs as a result of elevated stress hormones.
9. Help Reduce Frequency Of Heart Palpitations
Heart palpitations are abnormal and are usually characterized by muscle contractions that can be heard and felt by the affected individual. However, valerian essential oil is made of active ingredients which may be able to reduce the occurrence of heart palpitations. These components, among other functions, assist in the breakdown of homocysteine, an amino acid that is detrimental to heart health. Upon metabolism, it turns to cysteine, a harmless amino acid that is found abundantly in diet. Valerian essential oil may also help maintain a healthy flow of blood to all parts of the body as well as regulate the metabolic reactions that control the activities of the cardiovascular system.
10. Promotes Restful Sleep
When sleep is promoted, brain functions are improved, leaving the mind sharp and improving concentration levels subsequently. Valerian essential oil has some important ingredients which make it suitable for patients suffering from insomnia as it may have a sedative effect and promote sleep by reducing hyperactivity of the nervous system, providing a calm sensation necessary for sleep. For better results, this essential oil may be added to a diffuser or even taken orally if a stronger boost is needed.
11. May Promote Faster Healing Processes
Valerian essential oil has antiseptic properties which enable wounds, cuts and burns to heal faster. It may also use its anti-bacterial property to promote quick recovery and it can also prevent infections or germs from penetrating into open wounds. Valerian essential oil also helps to modestly relieve any pain and can be safely applied in combination with other ointments used to clean wounds and cuts by killing off bacteria that may inhibit the healing process.
Conclusion
Valerian essential oil is a naturally calming oil that can help relieve ailments that result from stress, and has a long history behind it. Its safety is good as well, allowing you to consume it fairly often for its renowned benefits on sleep.