13 Amazing Health Benefits of Cranberries
Cranberries health benefits include supporting good oral hygiene, treating kidney and bladder problem, supporting good heart health, fighting cancer, promoting weight loss, treating urinary tract infections, treating lung inflammation, slowing down aging process, promoting flawless skin, cleansing the skin, and treating dandruff.
What is Cranberries?
There is absolutely no question that cranberries are a magical fruit. With an assortment of medicinal properties, the cranberries can treat an array of health complication. Not to mention, the fruit is excellent for keeping a clear and young looking skin. This tiny red colored, shiny fruit is sour in taste. Cranberries are rich in iron, calcium, potassium, minerals, vitamin Bs and vitamin C. The powerful fruit can treat kidney problems and enhance their function, treats acne; helps lose weight and what not. And you cannot just treat dandruff with cranberries, but can dye your hair with it as well. You will rush to buy some after reading its 13 amazing benefits.
Cranberries are loaded with antioxidants and nutrients that work to treat plenty of health complications. You might not believe it, but regular consumption of cranberries can stop breast cancer cells from multiplying. This fruit is powerful and should be eaten regularly as it can fight against several health issues and some of that are given here:
13 Amazing Health Benefits of Cranberries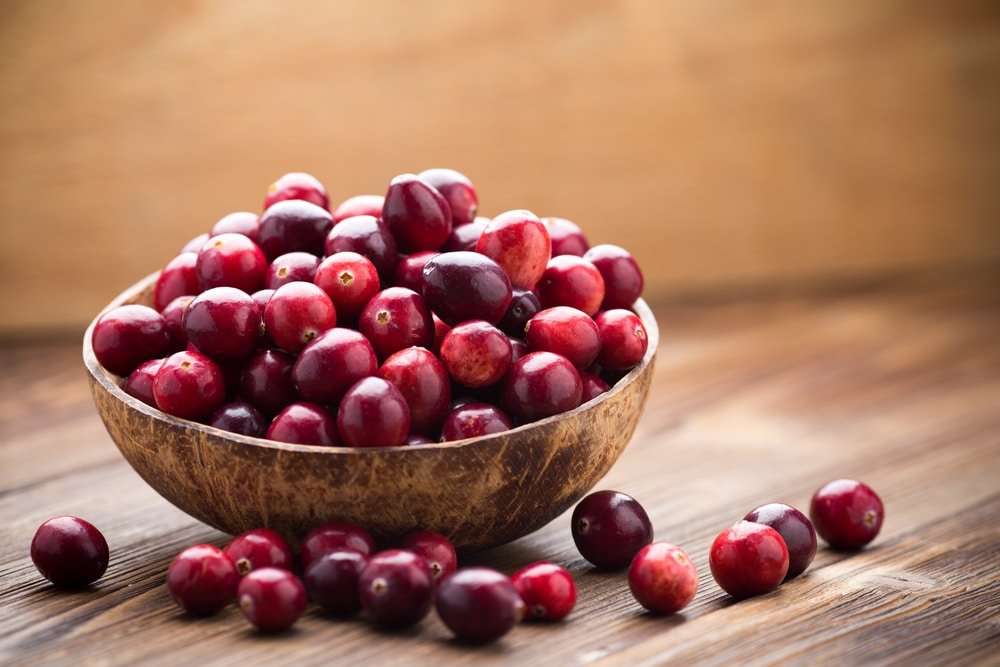 1. Good for Oral Hygiene
If you wish to stay away from any sort of dental problem, start eating cranberries. It is ideal for treating plaque formation, cavities and initial level gum disease.
2. Kidney and Bladder Problem
Kidney stones and bladder problems are horrific and painful. Cranberries have citric acid and other nutrients that can help steer you clear of bladder complications. Plus, they can also help prevent your kidneys from forming kidney stones.
3. Good for the Heart
Cranberries are really good for your heart as they contain various powerful minerals and enzymes that can help lower bad cholesterol from lining and blocking your arteries. Heart problems are common due to lack of exercise and other unhealthy practices. Eating whole cranberries or drinking cranberry juice while maintain a healthy lifestyle can really boost your heart health.
4. Fights Cancer
There are different types of cancers; however, it is important to understand that all the symptoms associated with cancer form due to the massive prevalence of free radical cells. These are bad cells that infect other cells, eventually degrading your immune system. As per different independent medical studies, it was observed that drinking cranberry juice can kill free radical cells that are associated with developing symptoms of breast cancer.
5. For Weight Loss
Being over-weight stays atop among all other health problems. Eating fresh fruits and vegetables are always suggested to shred extra pounds in a healthy way – adding cranberries to it – can double the benefits. They are rich in antioxidants, which flush out toxins from the body. This process improves the digestive system and metabolism, which automatically leads to weight loss.
6. For Urinary Tract Infections
Nothing is more refreshing and hydrating than cranberry juice. It is also ideal for women that suffer from frequent urinary tract infections. Medical professionals strongly urge women to drink at least 2 to 3 glasses of fresh cranberry juice to combat the symptoms and maintain their urethra health.
7. For Lungs inflammation
Eating whole cranberries or drinking its juice can both help ward off inflammation and strengthen your immune system. Cranberries contain an enzyme known as nondialyzable material or NDM, which is what helps keep the viruses separated from your health cells – which means you will not be getting sick with cold or flu that often. Plus, it is also a good way to stop the symptoms of influenza from forming.
8. Anti-Aging
Continuous consumption of cranberries can slow down aging process because this fruit is rich in antioxidants. The antioxidants quickly kill and flush out toxins and free radical cells out of your body, keeping your skin naturally moisturized and hydrated. So, you can say goodbye to wrinkles and fine lines and hello to immortality.
9. For Flawless Skin
Rich in vitamin C, cranberry juice is an excellent sour to get flawless skin. It has components i.e. hydroxylysine, hydroxyproline, and amino acids that our body needs to form collagen. The collagen helps in keeping the skin soft and youthful. Plus, if you live in a cold area, harsh winds can adversely affect your skin, which can lead to a series of skin related trauma and problems. Drinking cranberry juice daily can keep the skin hydrated and collagen-full.
10. For Oily Skin
Oily skin is prone to acne, which sometimes gets tricky to handle. If you have oily skin and looking for a long-term solution, cranberries may help you out. The berries have antiseptic properties that work to treat acne. Resveratrol, the antioxidants found in cranberry juice work effectively against pimples and acne. The cranberry juice can be used to make a face mask. To make this face pack, you will need – powdered orange peel, a teaspoon of honey, and cranberry juice. Mix all the ingredients well and apply this mixture on your face for a good 20 minutes.
11. A skin Cleanser
The cranberries can be used as a skin cleanser. All you need is a cranberry pulp; apply it on the face after facial steam. Avoid eye area as it is highly sensitive and make sure cranberry pulp does not get into the eyes. This way, your skin sinks in all the nutrients the fruit has. Wipe cranberry pulp gently after 15 minutes and rinse it off.
12. For Hair Fall
Hair fall is a very common problem. Although most people suffer hair loss as a result of poor genetics, there are, however, a variety of health related issues that can cause healthy hair to weaken and fall.  There are countless products available in the market to treat hair fall, but nothing can beat a natural remedy. Cranberries are rich in vitamin A and C, which is essential for hair growth and healthy hair.
13. For Dandruff
After hair fall, dandruff is the second severe hair problem. Cranberry juice can treat dandruff and other scalp related problems. Cranberries have anti-fungal and antiseptic properties that fight against dandruff. These properties prevent psoriasis as well. You can directly apply cranberry juice to the scalp and rinse off as you normally would. Plus, the vitamin C in the fruit can treat damaged hair as well.
Bottom Line
It would not be wrong to call cranberry a magical fruit since it has countless health benefits. Whether you have kidney or heart problem, the nutrients present in the fruit can work against it. For skin, you can apply its pulp for jaw-dropping results. It could become a blessing for the oily and acne-prone skin.