13 Amazing Benefits of Neroli Essential Oil
Neroli Essential Oil benefits includes relieving pain and arthritis, treating headaches and migraines, relieving stress and anxiety, normalizing blood pressure, effective for treating cuts, burns and wound, promoting digestion and acting as a deodorant. Other benefits includes keeping you warm, enhancing the skin, treating scars and stretch marks, treating seizures, promoting strong hair and acting as a relaxant.
Neroli essential oil can do wonders for your physical and mental health. Its soothing properties begin functioning in your brain only by inhaling it once. Direct application on a wound or buries not only heal it but rejuvenate skin's dead tissues and cells. Neroli essential oil can be your next beauty secret as well.
What is Neroli Essential Oil?
Neroli essential oil is extracted from the flowers of Neroli that grows on a bitter orange tree. There are two botanical names for Neroli; Citrus Aurantium and Citrus Vulgaris. But commonly known and available as Neroli, this oil is wondrous and is widely used in herbal medicines.
Major Components of Neroli Essential Oil
E-farnesol 9.1%
α-terpineol 4.9%
Limonene 4.6%
Linalyl acetate 19.6%
Nerolidol 9.1%
Linalool 28.5%
13 Amazing Health Benefits of Neroli Essential Oil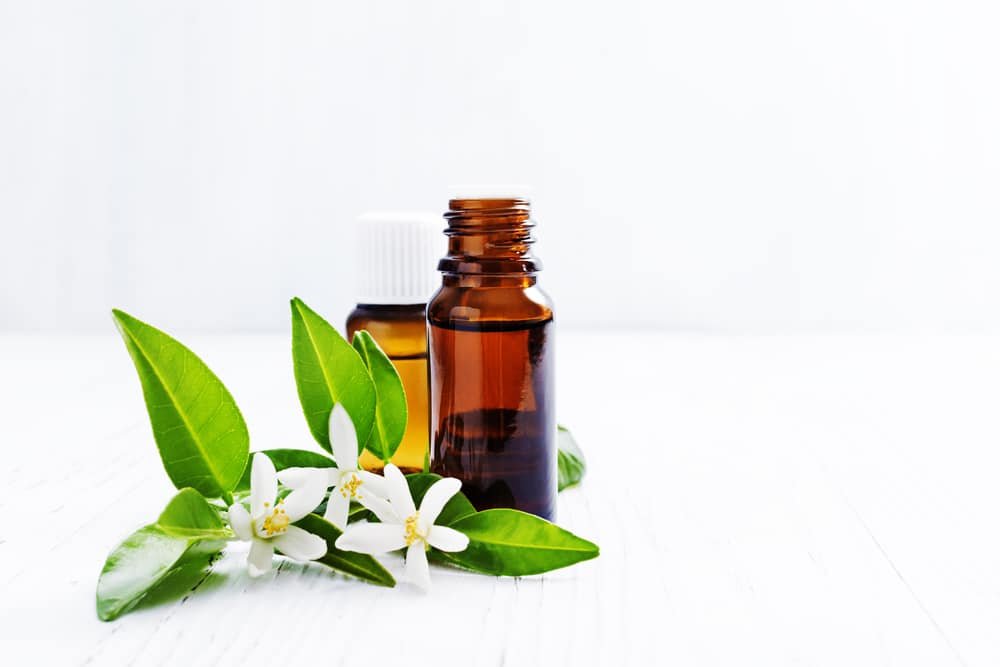 1. It Relieves Pain and Arthritis
Neroli oil is an excellent source when it comes to treating pain and arthritis. It is loaded with anti-inflammatory properties that reduce inflammation and lessens muscular pain. If you are suffering from arthritis pain, you need to incorporate Neroli oil in your life. It is also useful if you simply want to relieve your muscles after a long and tiring day.
2. Neroli Essential oil for Headaches
Headaches are utterly irritating. If you experience headaches more often you should try inhaling Neroli oil. It doesn't only prove effective for regular headaches but can treat migraines as well. According to herbalists, commercial painkillers are not safe always, therefore; inhaling few drops of Neroli oil is a smart choice as natural remedies don't contain adverse effects.
3. For Stress and Anxiety
Stress, anxiety, or panic attacks are daunting health conditions and shouldn't be taken lightly. There are many medicines and treatments are available in this regard but the drugs experts prescribed are addictive. Hence, opting for a natural product isn't a bad idea as Neroli oil isn't an addictive product. It possesses anti-anxiety properties, and you can treat your psychological issues just by inhaling Neroli oil regularly.
4. It Normalizes Blood Pressure
High blood pressure invites various heart problems such as hypertension or cardiac arrest. In any case, you need to keep your blood pressure levels normal. If your blood pressure stays unbalance, Neroli essential oil is here to rescue. According to experts, Neroli oil lowers high blood levels, but a patient is required to take other precautionary steps as well when suffering from high blood pressure.
5. It Is Anti-Bacterial and Anti-Microbial
A wound, burn or even buries; apart from its size, should be treated on time. This way you can prevent it from bacteria and infection. Neroli oil has healing and soothing properties, and this is why it is effective for to treat cuts, burn or a wound.
Moreover, it is very simple to use. You will need to apply few drops of the Neroli oil on the affected area and leave it for some time to experience the difference. It will soothe irritation or pain rejuvenating dead cells and tissues.
According to a study, Neroli oil contains antifungal substance as well. After a demonstration, it was proved that Neroli oil has potential to kill six common types of bacteria and various types of fungus.
6. It Promotes Digestion
You won't believe it, but you can treat indigestion without even consuming Neroli oil. According to a recent study, Neroli oil possesses a strong aroma and solid properties that are known to regulate stomach irregularities. Apart from this, a study also suggests that inhaling few drops of the oil twice a day can increase appetite in children.
7. As a Deodorant
An unpleasant odor after sweating is occurred due to germs and bacteria. Neroli oil contains antibacterial components that can fight those germs and bacteria and its strong aroma is potent enough to drive away the foul odor of sweating. You can use it as a deodorant as it doesn't contain any chemicals that may react or cause irritation of the wet skin.
8. It Keeps You Warm
Neroli essential oil is a safe source for warding off colds, fever, infection and stuffy nose during winter. If you want protection against draining flu and fever, Neroli oil is the best choice for you. Moreover, the combination of the solid component in the oil has potential to curb excessive production of mucus letting you sleep and breathe easily during winter.
9. For Shiny Skin
Making your skin shiny and baby-soft is now at your fingertips. The oil is skin-friendly as it possesses antibacterial properties that kill acne-causing bacteria. Simply apply a drop or two on your skin in circular motions. Don't press your skin too hard and massage gently – you will notice vibrant differences within weeks.
10. For Scars and Stretch-Marks
Neroli essential oil is your skin's best friend. If you want to get rid of stubborn acne scars, you can apply Neroli oil to the scars regularly for weeks to experience the result. You can find many products that help remove stretch marks but try Neroli oil once and observe the difference. The healing properties of the oil rejuvenate skin's deep cellular level leaving your skin hydrated and shiny. The process might take some time but once you will see the results you will through other products away.
11. Neroli Essential Oil for Seizures
Seizures are another daunting health problem. A study has revealed that calming properties of Neroli oil are effective for seizures. It is suggested that a patient should follow a medical treatment in this regard and inhale Neroli oil only when it's needed.
12. For Hair
Many beauty experts suggest oiling to get beautiful and strong hair. It is true as home remedies are mainly based on natural ingredients that don't contain harmful effects. Adding Neroli oil to your regular hair oil can provide you desirable results only in few weeks.
13. Works as a Relaxant
Its soothing properties are tremendous. They can heal wounds and inflammation and as well as a stressed mind. Even if you don't have any health problem, you can still inhale it before bedtime to sleep peacefully.
Adverse Effects of Neroli Essential Oil
Although it is a natural productbut, it does have some adverse effects, as Neroli oil isn't effective for eyes. Do not ingest this oil. Experts suggest diluting it with carrier oil or water before applying on skin or hair. It isn't effective for pregnant or nursing mothers as well.
Bottom Line
Everything works best in moderation, and the rule is same for Neroli oil. Therefore, use it carefully and combat troubling health problems.