13 Amazing Benefits of Rosemary Essential Oil
Rosemary Essential Oil benefits includes promoting mental clarity, treating Alzheimer's disease, treating respiratory problems, maintaining oral health, boosting immune system, ensuring proper digestion, relieving joint and muscle pain, supporting hair growth, treating dandruff, preventing skin infection, slowing down aging process, and treating acne.
What is Rosemary Essential Oil?
Rosemary essential oil is treating various health problems and nourishing skin for centuries. This herb belongs to the mint family. This grayish-green plant was widely used in herbal medicines by Greeks and Romans. Rosemary essential oil can treat many health problems with its tremendous healing properties. It is one those oils used in different types of therapies.
Rosemary essential oil has a crisp smell that soothes brain and lowers stress. It is a natural and safe way to maintain beauty as it rejuvenates skin and treats scalp infections. Here are some amazing benefits of Rosemary essential oil that will encourage you to start using it.
13 Amazing Benefits of Rosemary Essential Oil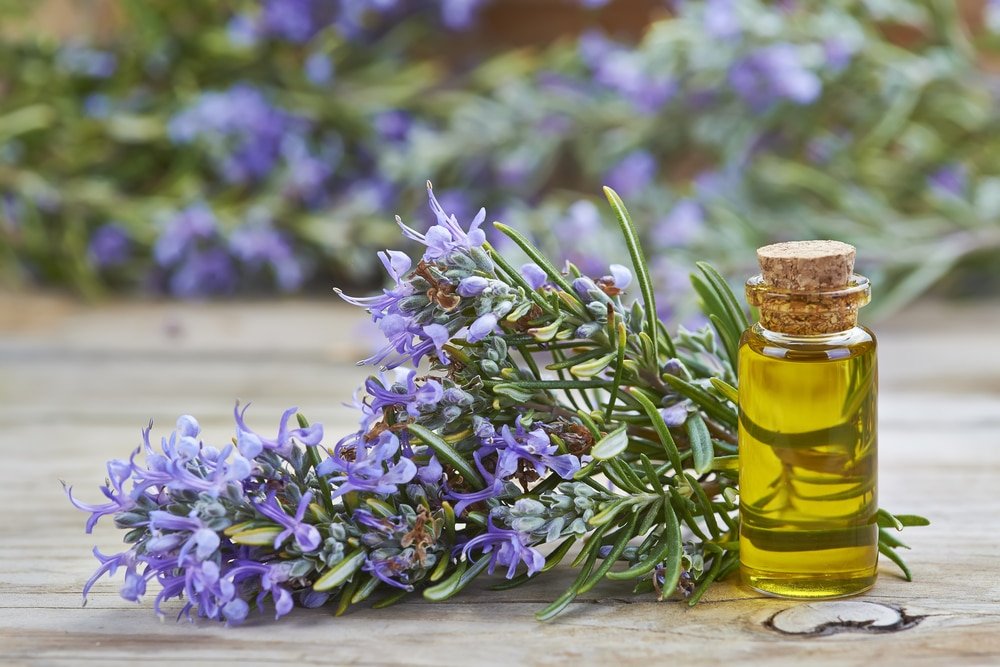 1. For Mental Clarity
A clear mind is essential to living a stress-free life. If you are going through a stressing situation, confusion, or struggling to keep a balanced routine, rosemary essential oil can help you. Its soothing aroma provides mental clarity. It relieves anxiety as well. You can call it a natural relaxant which works without side effects. A study also noted its positive impacts on an academic performance of the students who inhaled rosemary before appearing in the examination.
2. Helpful In Alzheimer's Disease
Not just rosemary essential oil ensures mental clarity, but it is also helpful in Alzheimer's disease. The qualities of the oil enhance cognitive function. Proper and regular use of rosemary essential oil reduces the chance of Alzheimer's disease because it boosts neural activity. It works as a shield against symptoms that might develop Alzheimer in a person.
3. Rosemary Oil Treats Respiratory Problems
It is said to be a favorite herb of ancient herbalists due to its several health benefits. Another great advantage associated with it is that the rosemary oil can treat respiratory problems as well. The strong smell of the oil relieves throat congestion. It can treat various allergies, sore throat, flu, and colds. It is loaded with antiseptic qualities which treat respiratory infections. And the antispasmodic quality makes it a safe option to use in bronchial asthma treatment.
4. It Maintains Oral Health
Good maintenance of oral health should be your top priority. Although there are numerous treatments available  a rosemary essential oil can become a potent and pocket-friendly alternative. It is packed with antibacterial and astringent properties which make it effective to treat dental problems such as cavities, gingivitis, bad breath and even plaque build-up. You can also use it as a mouth-wash because it is a natural disinfectant that keeps your teeth healthy and mouth – gums free.
5. Boosts Immune System
A solid immune system keeps infection and flu at bay during cold weather. Being anti-fungal and anti-bacterial oil, it boosts the immune system in children and adults alike. It can do wonders for your lymphatic system which clears out waste from the body. You can replace lymphatic massage oil with rosemary essential oil. It activates detoxifying abilities of a body when lymph nodes massage with rosemary oil.
6. Rosemary Oil Ensures Proper Digestion
The proper digestion is essential to maintain a healthy body. Continued indigestion is a severe problem which might cause further health problems. Countless remedies ensure proper digestion, but rosemary oil is the safest option. The best part about it that you can use this oil externally reposing indigestion symptoms like stomach massage with rosemary oil or by rubbing few drops on the bottom of your feet. People who are suffering from stomach cramp, flatulence, bloating or constipation should give it a try.
7. It Relieves Joint And Muscle Pain
Older people usually suffer from joint and muscle pain. Rosemary essential oil can relieve their aching joints and muscles. The German Commission E proves that this magical oil can treat both arthritis and muscle pain. Apply a small quantity of essential oil to the joints and muscles you will feel the difference and ease because it is loaded with anti-inflammatory and analgesic properties.
8. Rosemary Oil For Hair Growth
Apart from its' all the health benefits, it is widely used to enhance beauty. It promotes hair growth and thickness. We use various chemicals filled products and tools to get perfect hairstyles which damage your hair. If you who use hair tools and products regularly, you should include rosemary essential oil in your hair routine.
9. It Treats Dandruff
The dry and flaky scalp is the problem of every other girl which is annoying as it might land you in an embracing situation. Using rosemary essential oil prevents dandruff and even premature baldness. You can get healthy and disinfected scalp by massaging it with rosemary oil. It nourishes your hair and reduces dullness.
10. It Has Hair Darkening Properties
Dyeing hair is a trend that never gets out of fashion. There are hundreds of shades and techniques available to give your hair a high-fashion look. Unfortunately, excessive coloring damages your hair. The chemicals are coarse for your sensitive locks. The rosemary essential oil has hair darkening properties as well. So, it could become a hair-friendly alternative if you have grey hair. Regular massage can change the condition of your hair. It is free from damaging chemicals and can darken your hair naturally.
11. Rosemary Oil Prevents Skin Infection
Your skin is delicate and needs extra care. It is obvious that rosemary oil is free from adverse effects hence; it can treat chronic skin conditions such as psoriasis, eczema, and dermatitis. Being anti-inflammatory oil, it reduces swelling, puffiness and heals burns.
12. It Slows Down Aging Process
The rosemary essential oil is enriched with antioxidants which slow down aging effect. It tightens sagged and loose skin naturally without causing further damage. It restores skin elasticity and makes it youthful again. Regular use of it stimulates cell growth which reduces wrinkles and fine lines.
13. Rosemary Oil For Acne
The antiseptic and disinfectant qualities of rosemary oil treat acne prone skin. It controls oil production on the skin that later causes severe acne. Rosemary oil massage not just improves your skin complexion but it lightens dark spots and blemishes as well.
The benefits of rosemary essential oil are countless. It is extracted from an herb which makes it pure and safe. You can use it to fix digestion, mental exhaustion, and even your oral health. Apart from it, you can enhance your skin condition and can reduce unwanted grey in the locks. It is unbelievable how a few drops of rosemary oil can relieve joint pains. Rosemary oil is an ideal way to maintain a healthy life without depending on chemical filled products.