11 Impressive Benefits of Moringa Oil
Moringa Oil health benefits includes enhancing the skin, supporting hair health, improving liver health, improving bone health, treating gum problems, relieving stress, treating stomach ulcer, supporting bone development, improving heart health, boosting immunity, and treating kidney stone.
Natural resources and remedies are better than synthetic resources when it comes to health benefits. Moringa oil, in this regard, is an amazing natural resource due to its plethora of skin and medicinal uses.
The natural oil entails macronutrients like amino acids, carotene, vitamin C, and behenic acid. It is widely used for improving skin and hair health, also for enhancing the natural function of other vital organs.
What is Moringa Oil?
Commonly known as Ben Oil, Moringa oil is extracted from Moringa Oleifera seed by the cold pressed method.
It has antiseptic, anti-inflammatory photo-nutrients that are valuable to improve overall health. Moringa oil also finds its use for cooking and industrial applications. Besides that, the oil enhances skin glow to improving heart and kidney function.
Nutrient Density of Moringa Oil
Behenic Acid            74 %
Oleic Acid                 6%
Stearic Acid      8%
Arachidic Acid             72%
Vitamin E         9%
Flavonoids (antioxidants) 18%
11 Impressive Benefits of Moringa Oil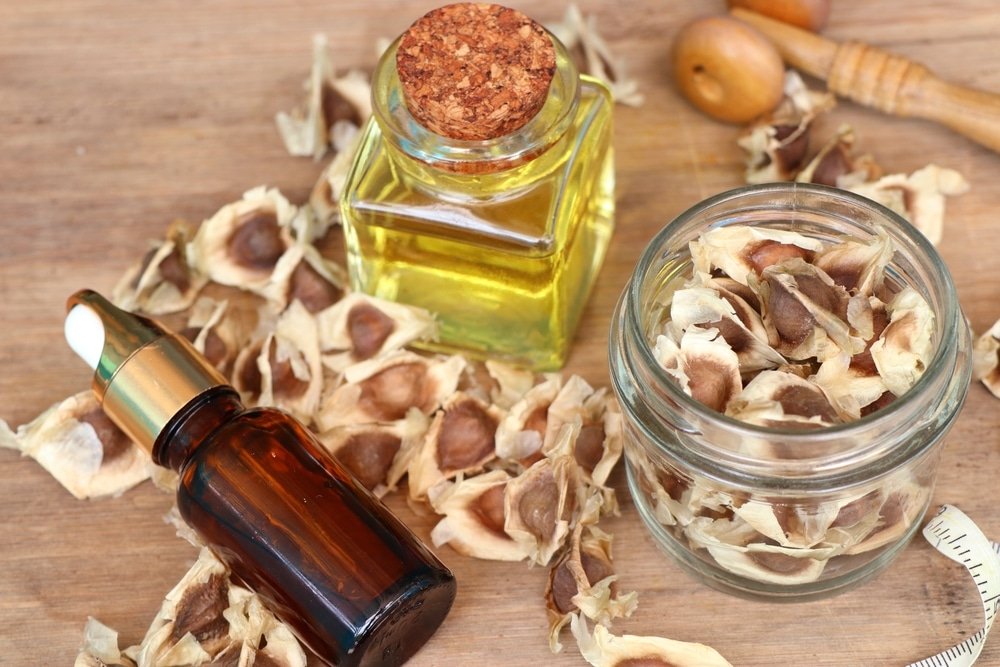 1. Skin Health
Moringa oil does wonders for your skin as a natural moisturizer.  Not only does this oil enhance the natural glow of your skin, but also it keeps it soft and protected against the harmful sunlight and other environmental pollutants.  To top it off, it does not even leave your skin greasy like most skin moisturizers.
The lubricants in the oil have the ability to completely penetrate in the skin and nourish it from inside. In addition, it is rich in omega-9 fatty acids, and many antioxidants that help you prevent aging signs and enhance your skin tone.
Moringa oil is much more than a skin moisturizer. Some of the other benefits of this oil are:
Treats psoriasis and eczema
Has anti-inflammatory qualities to treat acne
Gives a fresh, youthful glow during dry weather
Reduces wrinkles and fine lines
Uses as anti-fungal to treat athlete's foot
2. Hair Health
Moringa oil offers tons of health benefits to hair.  If used as a conditioner, the amazing oil seeps into the scalp to protect hair follicles that have a significant impact on the growth of your hair.
Moringa oil acts as a natural healer to relieve common scalp and nose hair issues.  It further relieves itchiness, scalp irritation, and removes dryness, dullness and split ends.
A number of dermatologists recommend Moringa oil as a complete solution to lifeless and dull hair as it is rich in behenic acid. It balances and restores the natural color and vitality of your hair by keeping sebum level and PH maintained.
Applying Moringa oil at least once in a week is an easy way to nourish your tresses from root to hair tip.
3. Improves Liver Health
Aside from these beauty benefits, Moringa oil has a plethora of other health benefits with its appreciable antioxidant capacities.
According to some recent researches, the oil plays a vital role in improving liver function. People, particularly those suffering from debilitating liver diseases such as Hepatitis B and C, can enhance their liver function by adding Moringa oil to their daily diet. It helps to eliminate toxins that have an adverse effect on the liver function and improves liver health.
4. Improves Bone Health and Joint Movements
Oil massaging for enhancing the strength of your bones, particularly bone joints, is one of the oldest traditions that in many regions. It is essential that you consider different ways to improve bone density and health because both the bone joints and tissues are particularly sensitive areas that take a lot of time to repair –especially if the bone cartilage is damaged.
In this regard, Moringa Oil is known to have restorative benefits. The natural oil soothes tendon muscles and fortifies joints with its warm and therapeutic effects.   If you massage it directly on the painful joints, it further reduces restricted joint movements and inflammation.
5. Treats Gum Problems
As mentioned earlier, Moringa oil contains antioxidants and helps you sooth inflammation, it is equally beneficial for treating gum problems.
A gentle massage on gums does not only relieve inflammation but improve oral health.  People suffering from scurvy and gingivitis can treat their sore gums by applying Moringa oil for 5-10 minutes regularly.
6. Relieves Stress
Helping people with emotional instability by calming down their stress level is another significant health benefit of this natural oil.
A number of researchers have attributed Moringa oil with improving emotional health as it has been using the herbal therapist to control anger and hysteria of the patients for decades. Using this oil to massage pressure points of the body is an effective way to reduces stress and fight insomnia and fatigue.
7. Treats Stomach Ulcer
For centuries, Moringa seeds have been used as deworming remedy in many cultures.  Also, it was one of the natural oils that people used as an effective anti-poison before it was replaced with modern medicines.
As it has plentiful fiber and other macronutrients, it helps you clear stomach by removing thick mucus layer from the small intestine to prevent stomach ulcers. Additionally, it has the added ability to control the retinal damage as it keeps retinal vascular nerves intact.
8. Helps in BoneDevelopment
Moringa oil is an easy source to improve your daily intake of essential nutrients that are required for your bone development. It acts as a nutritional supplement for the people who are allergic to dairy products and suffer from mineral deficiency.
9. Improves Heart Health
Moringa oil contains niaziminin and isothiocyanates which are essential bioactive components to enhance heart health.
Both of these components help you remove fatty deposits within arteries to promote better heart function.  It further reduces the risks associated with heart attacks due to high cholesterol level.
10. Boosts Immunity
By enhancing cellular response, Moringa oil stimulates the immune system. It yields a positive impact on various other parameters of defense mechanism that includes improved leukocyte count.
The miracle oil has excellent immunosuppressive properties that help the body produce antibodies to strengthen healing ability.
11. Treats Kidney Stone
Many researchers have proven Moringa oil effective to break down bladder, uterus, and kidney stones.
By protecting these organs from nephrotoxicity, the miracle oil reduces the risk of stone formation. Moreover, it serves as a bio-absorbent to treat renal injuries.
 Bottom Line
In conclusion, Moringa oil offers several health benefits and helps you maintain a healthy lifestyle.  The amazing oil addresses a long list of health problems including, heart diseases, bone disorders, and kidney problems. Thus, Moringa oil is a must-have product to improve your overall health.