15 Impressive Health Benefits of Clove Oil
Clove Oil health benefits include treating infection, fighting throat and mouth inflammation, treating toothache, boosting immune system, minimizing stress, treating respiratory issues, alleviating the effect of vomiting and nausea, fighting fatigue, treating acne, sparks hair growth, controlling diabetes, preventing premature ejaculation, and treating Sty.
What is  Clove Oil?
Indigenous to Madagascar and Indonesia, clove oil from cloves are found in nature as the pink flower buds of the evergreen tree. They are hand-picked, and the buds are left to dry until they turn brown, and after grinding them, the powder is used in cooking or made into an essential oil for various purposes. Unlike the majority of other spices, cloves can be grown throughout the year.
Cloves are rich in manganese, and other beneficial ingredients that include magnesium, potassium, and calcium – which are all used for treating and preventing anemia, osteoporosis, and PMS. They also top the list of the best antioxidant foods with an ORAC value of 290,283; but then again, clove is not really a food. It is a spice that is used in small quantities to flavor food. But it does more than just make food more appetizing, it offers numerous health benefits, 15 of which we will be covering in this article.
15 Impressive Health Benefits of Clove Oil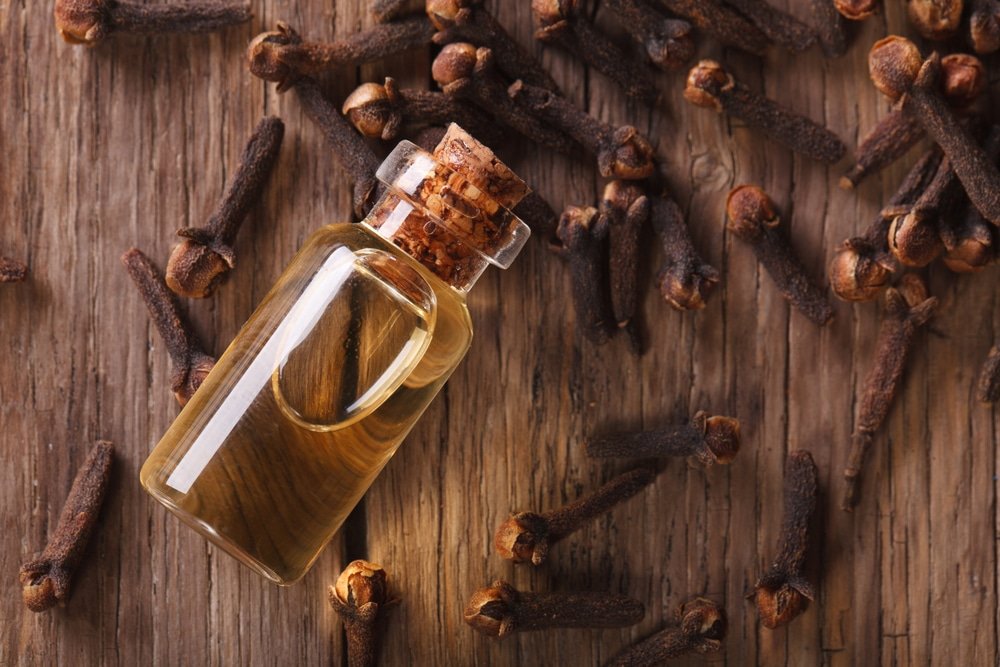 1. Treats Infection
Clove oil packs antiseptic properties, which make it useful for treating cuts, wounds, athlete's foot, scabies, bruises, infections, prickly heat, and other forms of injuries. It can also be used for treating insect stings and bites. Since clove oil is very potent in nature, it should only be in small amounts or in diluted form, especially by people with skin sensitivities.
2. Treats Toothache
Dental care is one of the most widespread uses of clove oil. The germicidal qualities of the oil make it a very effective option for relieving toothache, dental pain, mouth ulcers and sore gums. The oil contains eugenol, which has been used in dentistry for years and years. Simply gargling with water mixed clove oil can help eliminate bad breath, and also help fight cavities.
3. Fights Throat and Mouth Inflammation
Mouth ulcers are pretty common on the cheeks and lips and can be very painful. So is gum inflammation, which causes bacterial formation, resulting in soreness and bleeding. However, the anesthetic effect of clove oil can offer relief from pain.
4. Boost Immune System
Both clove oil and cloves work great for boosting the immune system. Their antiviral qualities and the capability to clean the blood increases the body's resistance to a number of diseases, the antioxidants present in clove oil rid the body of dangerous free radicals, which are responsible for causing a number of diseases, such as heart issues and certain cancer types.
5. Minimize Stress
Clove essential oil is an aphrodisiac in nature and thus acts a great stress reliever. Its stimulating effects on the mind helps get rid of fatigue and mental exhaustion. When consumed in the right quantities, it refreshes the mind and optimizes its function. Furthermore, it induces sleep and is helpful for insomniacs.
6. Treats Respiratory Issues
Clove oil has an anti-inflammatory and cooling effect and is often used to clear the nasal passageway. This expectorant is a helpful treatment for different respiratory issues such as coughs, colds, asthma, tuberculosis, and sinusitis.
7. Alleviates the Effects of Vomiting and Nausea
Pregnant women experiencing morning sickness can keep a packet of dried clove buds around them to relieve the symptoms of vomiting and nausea. Rubbing a little clove oil on pillows or in a diffuser can be just as effective.
8. Helps Fight Fatigue
Clove essential oil is an energy booster that minimizes platelet aggregation, thus thinning the blood. This, in turn, significantly helps enhance your blood circulation system. It also acts as a brain stimulator and a cardiovascular tonic.
9. Helps with Earaches
A blend of warm sesame oil and clove oil is a great remedy for earaches due to its analgesic and anesthetic properties, regardless of the underlying cause. It also helps curb ear pain associated with nasal congestion and cold.
10. Treats Acne
clove oil has antibacterial and antiseptic properties that sterilize acne prone skin and thus fight off bacteria responsible for causing bacteria.
11. Sparks Hair Growth
If you are looking to thicken your hair, it is time you tried clove oil! This spicy essential oil has hair follicle stimulating properties. It livens up and invigorates hair follicles by stimulating blood flow to the scalp. When the blood flow is stimulated, it brings nutrients to hair follicles, which sparks hair thickness and growth. You can mix clove oil with some olive oil and apply it on your hair once or twice a week for really effective results.
12. Cleans the Blood
Clove essential oil helps purify the blood. Research suggests that the fragrant extracts can minimize toxicity in the blood and also stimulate antioxidant activity in the whole body, thus strengthening the immune system as well as cleaning platelets.
13. Controls Diabetes
In addition to blood purification, clove oil helps regulate the blood sugar level, making it extremely useful for diabetic patients. Research suggests that the glucose and postprandial response systems are more controlled when clove oil is acting in the body's mechanisms. This is mainly due to the concentration of phenol found in clove oil, which is one of the highest as compared to other spice plants.
14. Prevents Premature Ejaculation
Studies have indicated that clove essential oil can be a valuable source for preventing premature ejaculation. However, further research is needed to confirm these results. Topical application of the oil mixed with water to the glans reportedly also enhances sexual performance. While the oil promotes blood circulation to the genital region, its gentle anesthetic effect could be helpful in prolonging the erection.
15. Treats Sty
Sty is an inflammation caused on the eyelash, which can prove to be incredibly painful and irritating. It causes a lot of eye problems, making it hard for the person to see from the affected eye because of the swelling. Both clove and clove oil are known to be effective remedies for preventing eye infections owing to their antibacterial properties.
A Word of Caution!
Clove oil is very potent in nature, and should, therefore, be used in small amounts and in a diluted form prior to ingestion or application. Furthermore, since the oil can cause blood sugar to drop, pregnant women who are nursing, and diabetic patients should avoid using it.