11 Impressive Health Benefits of Dragon Fruit
Dragon Fruit benefits includes supporting bone health and density, improving digestion, enhancing the skin, supporting good metabolic rate, fighting fungal and microbial, supporting weight loss, preventing cancer cells from thriving, preventing arthritis and healing sunburn. Other benefits includes slowing down aging process, ensuring healthy hair and preventing acne.
Imagine your food being legendary, as the name suggests the dragon fruit has a legend attached to it. Asian vendors decided to make the fruit more appealing to the buyers by making up a fictitious tale of dragons creating these fruits while breathing fire during battle. An interesting narrative, it was believed that whoever ate the flesh of these fruits possessed dragon-like powers.
What is Dragon Fruit?
Dragon fruit originated in Central America and is the fruit of a Cactus, and are found in over six continents. It is a gorgeous fruit that can be found in multiple colors. It is made so beautifully and has a scaly appearance, much like a dragon. It is beautiful to look at and can be found in many colors such as white, red and magenta.
The fruit has been neglected by mainstream fruit traders for centuries, but now it has become one of the top exports of Vietnam. Many juicing and fruit giants are now gaining interest in this fruit. It has a delicious flavor and is very refreshing to eat. It is mainly composed of water.  To best enjoy it, put it in the refrigerator beforehand or enjoy it as a juice. It can also be turned into a sorbet and served with mango. The vibrant color of the fruit is often used as a color agent in pastries, cakes, and other foods. The pulp is also added to alcoholic drinks. It is considered as a tropical fruit and its flower buds can be used in cooking. Packed full of Vitamin C, fiber, and minerals, this fruit provides an abundant supply of antioxidants. The seeds of the dragon fruit also contain multiple essential oils.
Nutritional Facts of Dragon Fruit
It is nutrient dense fruit with 87g of water per 100 grams, 1.1g of protein, 3g of fiber, 0.04mg of vitamin B1, 0.05 mg of vitamin B2, 0.16mg of vitamin B3, 20.5 mg of vitamin C, 8.5mg of calcium, 1.9mg of iron and 22.5mgof phosphorus.
11 Impressive Health Benefits of Dragon Fruit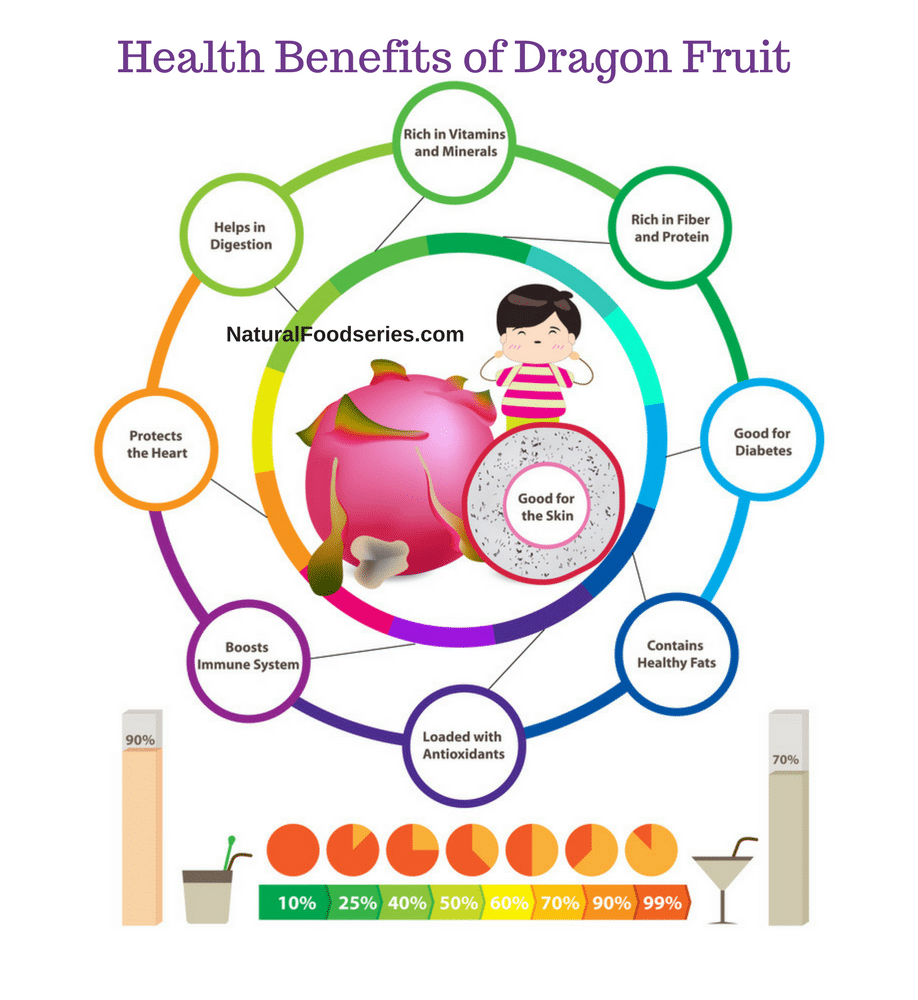 1. Bone Health and Density
After a certain age, your bones will start losing their strength and density, this is especially true in women. Dragon fruit is a good source of calcium and phosphorus.  Both these components help retain strength in your bones. Studies show that people who regularly consumed dragon fruits were able to reduce the effects of osteoporosis.
2. Digestion
The fiber content in the fruit is very beneficial in maintaining a healthy gut. It is a natural way of getting rid of constipation and other stomach issues such as diarreha. The water content In this fruit is also very helpful in keeping the digestive system working flawlessly.
3. Better Skin
The vitamins and minerals present in this delicious fruit, along with its huge water content helps maintains clear skin. Vitamin C and other components are known to help keep your skin internally moisturized and healthy. Consuming dragon fruits daily will help clear out the skin of several toxins more quickly compared to conventional remedies. It can also be ground into a paste and applied as a skin mask.
4. Good Metabolic Rate
Fiber and protein make a good team in helping your body increase its metabolic rate. Consuming dragon fruits will help your body absorb nutrients at a much better capacity. According to studies, this fruit helps maintain a clean system and get rids of toxins more effectively. An increased metabolic rate will also help you reduce weight more easily and effectively.
5. Antimicrobial
Full of essential nutrients, dragon fruits are full of anti-fungal and antimicrobial properties that form a strong barrier against infectious diseases. The growth of bacteria can be prevented by eating dragon fruits as it contains antibiotic properties.
6. Weight Loss
Dragon fruit is highly recommended for losing weight. Most of the time the only barrier standing between you and your weight loss goal is your desire to eat junk food. It is often believed that we first eat with our eyes and then with our mouth. This delicious exotic fruit looks almost like it just fell out of a fairy tale. Enjoy this wonderful food, with only sixty calories and satisfy your cravings for something sweet. This has multiple benefits. It will help you lose weight and also strengthen your body from within.
7. Antioxidant Rich
Antioxidants are the only natural way to prevent cancerous cells from growing. This delicious fruit contains antioxidants that prevent cancer cells from thriving. The nutritional value of this fruit makes it almost magical. Fighting free radicals is necessary to maintain a healthy and youthful glow.  This fruit is as rich in antioxidants as the widely famous Acai berry.
8. Prevent Arthritis
Keeping the bones healthy is one of the many benefits of this fruit.  Arthritis is caused by weak bones and inflammation in the joints. Dragon fruit has been studied to exhibit anti-inflammatory properties that help arthritis sufferers to cope with the pain and inflammation. People who consume dragon fruits on a regular basis are able to avert any such disease.
9. Sunburn Remedy
Dragon fruit is a refreshing fruit. Its texture and water content are used in many skin remedies, one of these being sunburns. This fruit pulp combined with cucumber and honey can be applied to the affected area and left for about 15 minutes. The vitamin B3 present in this fruit helps release the heat and calm your skin.
10. Anti-Aging
Free radicals are a big reason why your skin ages fast. There are many conventional supplements that claim to help with the aging process. These artificial creations are more harmful than beneficial. Dragon fruit when eaten and applied on the skin is helpful on slowing down the aging process. Due to its high antioxidant content, it stops the intense effect of free radicals cells.
11. Healthy Hair and Acne Prevention
People have been using dragon fruit juice to enhance the beauty and healthy of their hair. Due to high antioxidant and vitamin content, dragon fruit juice helps revitalize the hair and condition them. For acne, due to it anti-fungal and antimicrobial properties, dragon fruit helps fight all the acne causing bacteria and prevents scars and spots.
Dragon fruit has many benefits and can be easily made part of your diet. This exotic fruit can be eaten directly with a spoon or added in smoothies. It can also be turned into a sorbet or added to fruit salads. It is a distinguished flavor and texture and makes eating healthy easier.