11 Tips for Strong and Healthy Nails
Healthy nails are less likely prone to brittleness. They look good with or without nail color on. However, if you excessively use products like nail color, harsh nail polish removers, manicure products, and cleaning detergents -you are putting your nail health at risk of various complications.  Like your skin, your nails are supposed to stay hydrated.
Maintaining healthy nails require proper care. You should also take precautions in this regard on a daily basis.
Most women think getting a manicure done is enough to sustain nail health whereas various other factors contribute to strong nails including your diet. Your body needs vitamins and minerals in abundance to support nail health. And inadequate levels of nutrients will ultimately lead to weak and damaged nails.
Also, a lack of nutrients or unhygienic practices can contribute to the growth of nail fungus. You need to visit a skin specialist immediately in the case as delaying it will only worsen your condition. Moreover, if you opt for the right nail care tips, you can prevent your nails from various damaging factors allowing them to stay healthy for the more extended run.
11 Tips for Strong and Healthy Nails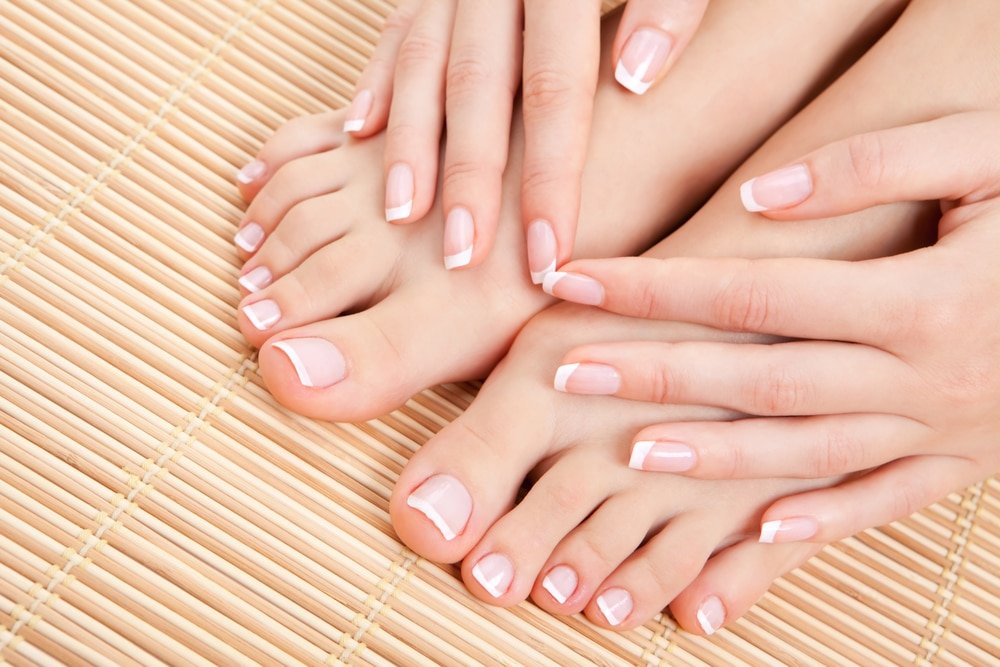 1. Dry and Clean Nails
Unhygienic practices contribute to germs and bacteria which are the primary nail-damaging causes. You need to stop them before they breed. That is why maintaining hygiene via keeping your nails clean and dry is necessary. Do not expose your nails to water for a longer time as it allows them to split quite quickly.
Moreover, you should wear proper quality kitchen gloves before dishing to prevent potential damage. The washing detergents are made with chemicals which may dismantle your nails and skin around them significantly.
2. Moisturizer
To establish an effective nail care routine, invest in a high-quality moisturizer. Beauty experts recommend keeping your fingernails and cuticles moisturized 24/7. Dryness and flakiness are dangerous because your nails are sensitive and are prone to breakage.
So, moisturizing your nails will make them healthy, preventing dryness. Apart from the moisturizing creams, you can find a wide range of cuticle oils on the market. These oils are specially made to retain the strength and shine of your nails.
3. Trim Your Nails Frequently
You need to opt for frequent nail trimming. It is advised to monitor the condition of your nails every third week and give them a nice trim if needed. Beauty experts suggest long nails are prone to breakage as well. This is why you should refrain from growing your nails to a drastic length.
4. Stop Nail Polish Scraping
Scraping nail polish from the nails instead of using nail polish remover is an unhealthy habit. You need to avoid doing it as it makes the surface of your nails patchy and rough. When you scrape off the nail color, the top layer of your nail comes off with it. Moreover, beauty experts suggest top coating your nail polish to make it last for a longer period.
5. Don't Bite Your Nails
Some people are habitual of biting their nails not knowing it can dismantle their nail. When your nail encounters saliva, it makes your nail brittle affecting your cuticles. To maintain the healthy nails, you should abandon this gross habit immediately.
6. Take Care of Cuticles
Just like other parts of your body, cuticles need attention too. Don't forget they are delicate and are prone to damage. Moreover, a nail care routine should involve products mainly made for the cuticles. You need to massage your cuticles on a daily basis to keep dryness at bay. The best time for the massage is before going to bed after finishing other chores.
7. Go For a Base Coat
Beauty gurus recommend applying a base coat on the nails because it develops a protective layer alleviating nail stains and discoloration. Various factors contribute to these stains and discoloration such as using bad-quality nail colors, overexposure to chemical filled products, or smoking which makes your nails look unhygienic and unattractive. Thereby, apply base coat on a daily basis and maintain the healthy nails.
8. Don't Go For Acrylics and Gel
You may like opting for nail art. The latter looks pretty, but unfortunately, gel and acrylics are not nail-friendly. When used frequently, both products cause significant damage to your sensitive nails.
Moreover, the acrylic powder is made with harsh chemicals which roughen your nails significantly. Nail artists often use gel to dry nail colors rapidly. However, the drying mechanism is awful for the cuticles and skin alike.
9. Buff over Color
It is evident that nail colors are made with chemicals which are damaging even if you purchase the natural one with minimum chemicals used in it. Celebrity makeup artists recommend buffing over nail colors.
Buffing helps give a shine to your nails, not to mention healthy nails look as attractive as coated ones with distinctive colors. Plus, buffing will also save your time which you typically invest in adequately done manicure.
10. Try Finger Massage
Celebrity makeup artists revealed that you should go for finger massage. It will keep your nails strong and shiny. Your hands and fingers get tired after working non-stop all day, and you should pamper them with a quick massage before bedtime.
You can do it with the regular cream or cuticle oil. Gently massage the skin around your nail with the product in a circular motion for few seconds. Also, regular massage promotes rapid blood supply which is essential for growing nails as well.
11. Get Maximum Nutrition
A well-balanced diet is a solution to most of your health problems. You will be pleasantly surprised to find that fixing weak and rough nails is possible via consuming a diet abundant in vitamins and minerals. Various studies have concluded that brittle nails are the outcome of calcium deficiency.
Hence, you need to watch what you are consuming and make changes accordingly. Your daily diet should base on food options with maximum nutritional value. When you will incorporate dairy products, poultry, protein, seeds, and nuts your nails will get nutrition required to retain their health.
Bottom Line
Discolored and brittle nails look unattractive. Not to mention, their worse condition can land you in most embarrassing situations too. This is why you need to go for the useful nail care regimen to keep your nail super strong and healthy.