13 Impressive Health Benefits of Lemon
Lemon health benefits includes improving vitamin C levels, decreasing blood cholesterol, alkalizing body pH, boosting liver function, boosting metabolism, boosting gallbladder function, helping digestion, treating acne, decreasing digestive irritation, relieving symptoms associated with pathogenic bacteria, helping prevent internal hemorrhage, improving eye health, and improving cancer treatment.
What is Lemon?
When life hands you lemons, say "Thank you." Lemons are frequently an afterthought, used as a garnish on a fish fillet or a bright addition to your chilled drink. What you might not understand is that lemons are laden with nutritious benefits that go far outside the role of a garnish. So how can you enjoy the benefits of lemons? Add more of it into your everyday routine by squeezing some on your green salads or mixing it with a mug of plain warm water for an energizing beverage.
Lemons, known scientifically as Citrus limons, are a vibrant yellow fruit that we often use for its juice in lemonade or lemon meringue pie. However, the pulp and rid are also of great benefit. Here we will discuss 13 amazing benefits of integrating more lemon into your diet!
13 Impressive Health Benefits of Lemon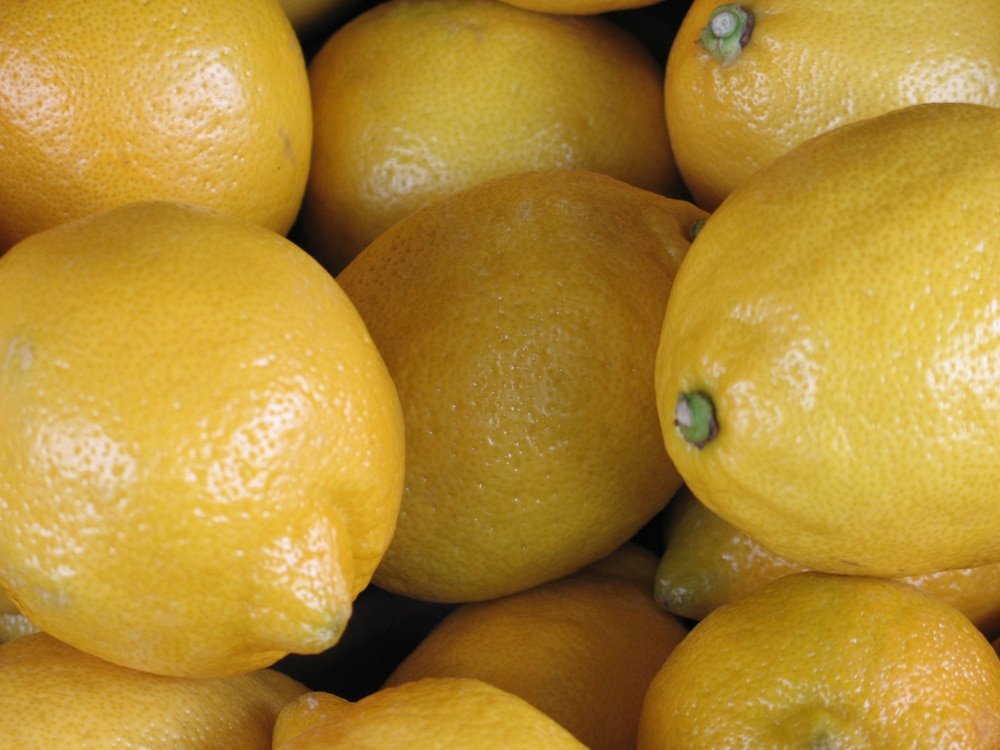 1. Lemons Improve Vitamin C Levels
Lemons provide 64% of the daily value of Vitamin C in a 100g serving. A water-soluble vitamin and potent antioxidant, Vitamin C helps the body form and preserve connective tissue, as well as bones, blood vessels, and skin. All varieties of lemons have around the same amounts of nutrients. The lemon's main right to fame is its high vitamin C content.
So how much Vitamin C can you get from one lemon?
30.7 milligrams! Which is about 34-40 percent of the recommended daily allowance for men and women. Fascinatingly, the skin of this fruit contains nearly double this quantity. Vitamin C functions as an antioxidant and plays a key role in your body's immune function.
2. Lemons Can Decrease Blood Cholesterol
Lemons contain pectin fiber, a soluble dietary fiber essential for colon health. In human digestion, pectin binds to cholesterol in the gastrointestinal tract and decelerates glucose absorption by trapping carbohydrates. Consumption of pectin has been shown to decrease blood cholesterol levels. The mechanism seems to be an upsurge of viscidness in the intestinal tract, leading to a reduced absorption of cholesterol from bile or food.
What does pectin do in the large intestine and colon?
Microorganisms damage pectin and release short-chain fatty acids that have positive effects on health.
3. Lemons Can Alkalize Our pH
The 2.2 pH of lemons helps to alkalinize our own pH, due in part to the huge levels of citric acid. Outside the body, lemon juice is acid.
What happens inside the body though, when lemon juice has been completely absorbed and its minerals are distanced in the bloodstream?
The result is alkalizing and therefore increases the pH of body tissue!
4. Lemon Boosts Liver Function
Having warm lemon juice upon waking helps to flush toxins from the liver due to its bitterness. Your liver is part of your body's integral filtration system. Lemon juice is a natural cleaner, so it helps control damaging organisms. I indorse squeezing half of an organic lemon into a small glass of purified water and drinking it each day. Not only does this help aid your liver function, but also promotes better skin, and even helps calm minor throat and breathing problems
5. Lemon Boosts Metabolism
With about 47 grams per liter, lemons are a major source of citric acid, a key part of the Krebs cycle essential for metabolic function.
6. Lemon Boosts Gallbladder Function
The bitterness of the lemon is also helpful for production of bile, as it stimulates the liver and gall bladder. A diet heavy in fat and animal based foods places extra stress on liver function and impairs the smooth flow of bile, which is vital for optimal digestion.
A glass of lemon water in the a.m. is a straightforward method to stimulate the liver and promote bile flow which in turn aids in digestion. Lemon water also sometimes helps resolve indigestion symptoms by stimulating healthy stomach function.
7. Lemons Can Help Digestion
Lemons contain numerous phytochemicals, including polyphenols which are micronutrients full of antioxidants. Polyphenols are micronutrients that we get through certain plant-based foods. They're packed with antioxidants and potential health benefits.
What can polyphenols help with specifically?
Digestion issues, weight management problems, diabetes, neurodegenerative illness, and circulatory illnesses, to name a few.
8. May Help Treat Acne
Lemons also contain terpenes which produce the invigorating aroma we often associate with lemons! It comes as no shock that lemon is a favorite essential oil. It is extensively valued for its clean odor, but has many healing qualities as well. It improves attentiveness, aids in digestion and eases symptoms of acne and stiffness.
9. Decreases Digestive Irritation
It contain tannins, astringents responsible for the dry, pucker feel we get in our mouths after consumption. Natural astringents contain strong anti-inflammatory properties that can be used to decrease digestive system irritation while also improving digestion and inhibiting diarrhea.
10 Relieves Symptoms Associated with Pathogenic Bacteria
Lemons are powerfully antibacterial, that prevent the growth of pathogenic bacteria that cause infections and disease such as malaria, diphtheria, and typhoid
11. Helps Prevent Internal Hemorrhage
The bioflavonoids in lemons prevent internal hemorrhage by way of strengthening blood vessels. Therefore, making lemons very useful to those with high blood pressure. In one new study available in The Journal of Nutrition, a team of Harvard University researchers inspected the diets and blood vessel function of over 30,000 females.
The scientists found that women who frequently consumed sources of bioflavonoids had better markers of healthy blood vessel function compared to persons who did not. Women who consumed at least two servings of citrus fruits a day showed 20 percent lower levels of endothelial stress-linked biomarkers and a significant improvement in markers of blood vessel function compared to those who did not frequently eat citrus fruits.
It deliver a strong mixture of both vitamin C and citrus bioflavonoids, which work together to deliver powerful benefits for supporting healthy blood vessels.
12. Helps Improve Eye Health
Rutin, found in it help to maintain eye health and reduce symptoms of eye problems. It's no secret that Rutin has many health benefits when it comes to regulating blood flow. Seeing as smooth blood flow to the retina of the eye is an important part of strong and sharp vision, Rutin can help stop blood vessel illnesses in the eyes.
13. Helps Improve Cancer Treatment
It contain 22 anticancer compounds, including limonene which has been shown to slow the growth of cancerous tumors. Limonene has presented anti-inflammatory, wound curative and anticancer effects in laboratory studies. Limonene was shown to change the signaling pathways inside cancer cells in a way that halts cancer cells from increasing and causes their demise. In animal models, limonene decelerated the development of pancreatic, stomach, colon, skin, and liver cancers.
Conclusion
In conclusion, the lemon is a small but mighty fruit with its nutritious benefits. It contains numerous vitamins and minerals and can be used in multiple ways, from eating it uncooked to adding it to drinks or using it in recipes as diverse as broths and desserts.