11 Amazing Health Benefits of Vitamin K
Vitamin K comes with amazing health benefits. This vitamin, though over looked is packed with benefits that includes ensuring good heart health, health bones, bone density preservation, reducing menstrual cycles bleeding and preventing cancer. Other health benefits include improving cognitive function, ensuring good dental health, preventing arthritis and osteoporosis, enduring quicker wound healing and improving overall immunity of the body.
A vitamin deficiency can have a large impact on how your body functions. Eating well has its perks, providing the body with all the essential nutrients it requires to keep up the metabolic and regenerative processes going. This article discusses how vitamin K helps with the internal processes that the body carries out to maintain overall health.
History
Vitamin K was first discovered in 1929 during research that going for sterol metabolism. In the years that followed, scientists discovered principle vitamers of vitamin K, menaquinones and phylloquinone, which were isolated and characterized. Warfarin, one of the antagonists of vitamin K, was derived around 1940 and crystallized; this antagonist is still a part of the modern forms of supplementation and medication. The real breakthrough in the continuous research being conducted on vitamin K occurred in 1970 when they-carboxyglutamic acid was discovered as a part of all vitamin K proteins.
The K in the name vitamin K is derived from the German name, Koagulationsvitamin, which refers to its capability to cause blood coagulation. About 15,000 studies regarding the health benefits derivatives of vitamin K have been published since its discovery.
Food Source for Vitamin K
Green Leafy vegetables such as Kale 443% daily recommended value
Natto fermented soy over 100 % Daily value
Cabbage over 100 % daily value
Brussel sprouts 98% daily value
Spring onions over 100 % daily value
Fermented dairy products 10 % daily recommended value
Cucumbers 61 % daily value
Broccoli 58% daily value
Prunes 65 5 Daily value
Dried basil 45 % daily value
Mustard greens 346 % daily recommended value
Raw spinach 121 % daily value
Beef Liver 60% daily value per serving
Pork chops 49% daily value per serving
Chicken 43% daily value per serving
Goose liver paste 40% daily value per serving
Kiwi 23 % daily value
Soybean oil 21 % daily value
Avocado 18 % daily value
Green Peas 17 % daily value
Swiss chard raw 332% daily recommended value
Parsley 137% daily recommended value
Duck breast 4 % daily value
Almost all leafy greens and meats are essentially good sources of vitamin K. Eating healthy does include sticking to more non- processed foods.
11 Amazing Health Benefits of Vitamin K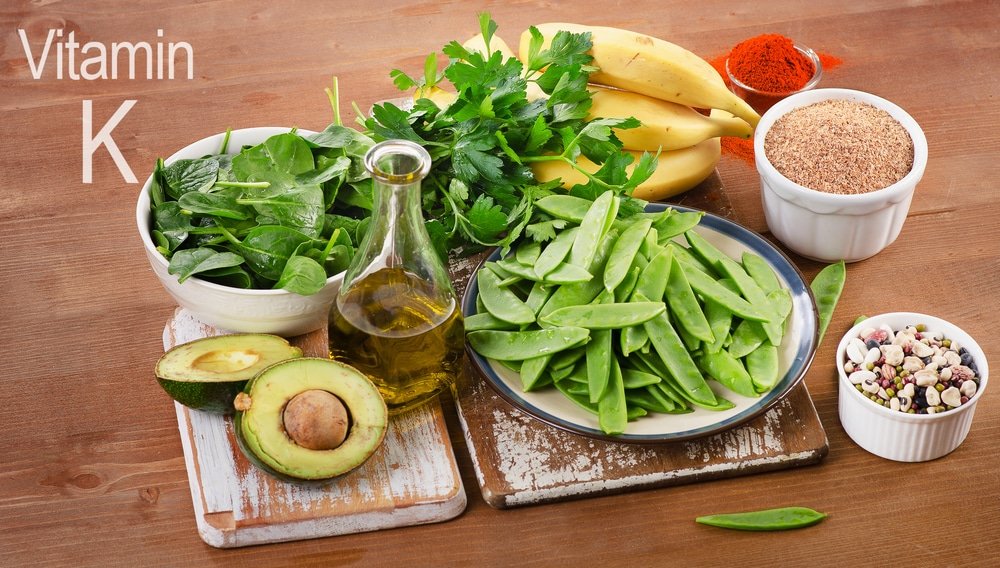 It is necessary to remember that each vitamin has its own benefits for the body, but they tend to work together to carry out indispensable procedures inside your body.
1. Heart Health
Vitamin K plays a vital role in preventing the calcification of the arteries. For the blood to flow properly it is necessary that the arteries are relaxed and not hardened. Calcification or the accumulation of calcium in the arteries can be the cause of artery hardening, which is directly linked to heart attacks and walls clogging around the heart. Vitamin K actually helps carry the calcium out of the arteries.  Vitamin K-2 is especially good at carrying out this process; this form of the vitamin is produced in your intestines.
2. Healthy Bones
Vitamin K is often deemed more powerful than calcium in preserving the integrity of the bone structure in the body. It promotes an adequate absorption and utilization of calcium throughout the body. Most dairy products contain vitamin K and calcium, which is a winning combination that can keep the bones quite healthy.
3. Bone Density Preservation
Vitamin K is crucial for overall bone health and also slows down the bone density loss, which is age-related. Studies show that people who consume vitamin K on a regular basis experience almost 25% fewer chances of bone density loss than others.
4. Menstrual Cycle and Bleeding
PMS symptoms can be painful and cramping is often the result of excessive bleeding. Vitamin K regulates the hormones in the body and reduces the blood flow to provide relief. It can also help reduce the pain and cramps to a large extent.
5. Cancer Prevention
Cancer is a deadly disease and the treatment is much more painful than the disease itself. It is best to incorporate a healthy lifestyle and up your vitamin K intake. The vitamin has been observed by scientists to reduce inflammation related to cancer and has also helped stabilize patients suffering from liver cancer. It has strong preventative effects on the colon, prostate and on symptoms of skin cancer; its capability to repair damaged cells goes beyond coagulation, as it also helps repair cells.
6. Improving Cognitive Function
Brain cell membranes carry out the sphingolipid metabolism, which is dependant on the proteins that work only with vitamin K. This vitamin is essential for the brain to function fully as it is part of the biologically present molecules in the brain.
7. Dental Health
Vitamin K is a fat-soluble vitamin that is essential for the health of the teeth and gums. Vitamin K helps in teeth and bone mineralization, which is extremely necessary to prevent tooth decay. Vitamin k helps cancel out the effects of the acids that are the cause of tooth decay.
8. Prevent Arthritis and Osteoporosis
Vitamin K is anti-inflammatory in nature and in some cases helps with adequate blood circulation. VitaminK-2, which is a part of the gut bacteria, helps the body keep away from toxins that cause inflammation. This quality along with the bone preservation qualities of vitamin K actually protect the joints from diseases such as arthritis and osteoporosis especially in women suffering from menopause
9. Quicker Healing
Vitamin K has, since its discovery, shown a capability to heal wounds by inducing a clotting effect. It promotes quicker healing as it accumulates cells and repairs the skin. It almost performs the function of patching up the tears in the skin and heals wounds quickly. Vitamin K deficient individuals may experience a delay in healing, which can cause an infection.
10. Hemorrhage Prevention in Babies
Vitamin K is injected into babies who are at a risk of experiencing hemorrhaging. Babies that are bone prone to asthma and other respiratory disorders are also recommended doses of vitamin K drops.
11. Healthier Immunity
Vitamin K works inside the body protecting it internally by keeping your digestion and cardiovascular system up and running. It builds immunity by promoting adequate digestion and eliminating chances of several chronic illnesses. Foods rich in vitamin K are recommended to people who immunity need boost.
Bottom Line
Vitamin K is also diuretic in nature, which helps eliminate toxins from the body. With other antioxidants and nutrients, vitamin K heals the body from within. It is also excellent for women who are expecting as it not only protects the baby it also lowers symptoms of vomiting and nausea.