10 Amazing Health Benefits of Spinach
Spinach health benefits includes, aiding detoxification, supporting weight loss, keeping eye healthy, supporting strong bones, reducing hypertension, promoting good sleep, boosting immunity, promoting youthful health, combating hair loss, curing acne, and enhancing the skin.
What is Spinach?
Ever wonder why Popeye became so strong after he ate his spinach? How did his muscles flex up? How would he save the day as soon as he opened that can and chewed the spinach down? As a kid, we used to love how Popeye became so powerful after eating a vegetable and always wondered what would happen to us if we ate it as well. Curiosity led us to try it for ourselves, and surely, we ended up liking how it tasted.
Although we won't experience the same effects as Popeye, we will get more nutrition than any other staple food item out there. Spinach is a dark green, leafy vegetable. It has miraculous antioxidant and anticancer properties. It is also rich protein and vitamins that include vitamin A, vitamin C, and vitamin E. There are countless different ways of making spinach into a dish that your family and friends can enjoy. Most westerners use it in salads while in South Asia; an entire dish can be prepared from it.
There are countless other health benefits to Spinach. You can easily find a million recipes for spinach online, thereby adding this food item to your diet because of the following advantages:
10 Amazing Health Benefits of Spinach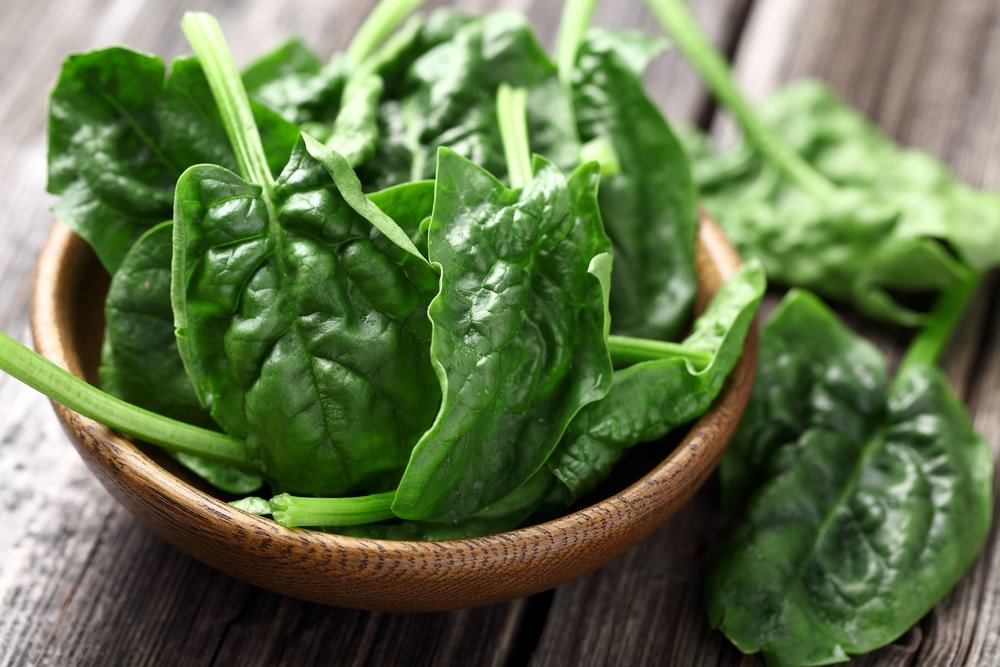 1. Spinach Aids Detoxification
The green color of spinach is not just a color, but it contains a special chemical called chlorophyll, which has anti-inflammatory properties and can be used to detoxify the body from any toxins that affect it. You can enjoy spinach not only in food but drinks as well. Mix it with fruits or other vegetables to make a smoothie and enjoy the fresh, healthy drink.
2. Perfect for Weight Loss
If you are looking for a diet that contains less fat and carbohydrates and more nutrients and minerals, spinach is the perfect food item for you. As a bonus, it also contains fat soluble fibers that can help with weight loss through proper digestion, lowering blood sugar and mitigating the effects of overheating. You should consider adding spinach to your daily protein shake as the more the nutrients, the better it is for you.
3. Spinach Keeps Eyes Healthy
Spinach contains two essential chemicals that act as protectors of the eyes from cataracts and other age related problems. These two chemicals are Lutein and Zeaxanthin. Another bonus of eating spinach is that it contains vitamin A that is responsible for keeping the mucus membranes healthy, which helps preserve your eyesight.
4. Strong Bones
Some of what they showed us in the Popeye cartoon was true. Spinach does make our bones stronger because it contains vitamin K. Most of the vitamin K we receive is from the sun but if we add spinach to our diets, we can further strengthen our bones, which makes it the perfect alternative to dairy products if someone is lactose intolerant and cannot consume milk.
5. Reduces Hypertension
Hypertension is another name for a rise in blood pressure. A high blood pressure can cause multiple problems in our body such as kidney failure or a heart attack. It helps reduce the potassium in the in the body and this plays a key role in reducing the risk of hypertension.
6. Spinach Helps You Sleep Better
Spinach is the perfect muscle relaxant. You might notice that when you consume a good amount of spinach, you will feel drowsy and want to sleep, which is due to how it contains high levels of zinc and magnesium that accelerate sleep in our bodies. The effects are like being given a small dose of morphine. Furthermore, magnesium also helps to replenish your body with energy.
7. Provides an Immunity Boost
Spinach is a vital source of vitamin A in the body. It helps in strengthening the immune system of the body and helps in replenishing the white blood cells. You have a lower chance of getting sick if you were to consume spinach regularly.
8. You Can Look Younger
Eating spinach can improve your complexion and your skin situation as well. It is rich in antioxidants that destroy all skin related problems that may cause premature aging in someone. Your body reacts to a million things each day. Some of them can be harmful towards your skin as you begin to look older than what your actual age might be. The antioxidants present in it help revitalize your skin situation and help in destroying any additional aging agents.
9. Combats Hair Loss
Iron deficiency mostly causes hair loss. Most of the populations of the South Asian countries are deficient in iron which causes them to lose hair as they grow old, which happens due to anemia, which is a disease related directly to not having enough iron in the body. It contains the necessary folate and iron. They work simultaneously to produce red blood cells and later on carry oxygen properly to all parts of the body.
10. Cures Acne
Yes, you heard it right. The biggest problem that teenagers and many adults face is acne. There are some ways in which you can get rid of all the red marks on your face. You can even make a mask by grinding spinach and mixing it with a little water. The anti inflammatory properties of the spinach mask work the same as any face wash would. Make a smoothie out of all the vegetables you have available in your house including spinach to detoxify your body of all toxins and help in rejuvenating your skin. Continuous use can produce tremendous results.
Bottom Line
Spinach is extremely healthy to eat. We should put more focus on researching other benefits of vegetables like spinach instead of wasting our time looking for a medicine that might or might not work. Long term use of it can produce amazing results in both body builders as well as people who are facing diseases. Popeye sure knew how to pick the best vegetable because spinach is surely beneficial in making our bodies strong and more durable.