13 Amazing Health Benefits of Capsicum
Capsicum health benefits includes treating anemia, improving eyesight, supporting hair growth, improving immunity, supporting skin health, reducing inflammation and swelling, maintaining heart health, combating cancer, preventing obesity, lowering blood sugar, treating respiratory illness and reducing calories.
What is Capsicum?
Capsicum belongs to the species (Capsicum annuum), which is also known as bell pepper. It is native to southern and central America and is relative of tomato, breadfruit and chili peppers. It is largely sold item worldwide and is available on a large scale. The vegetable comes in three colors yellow, orange and red. It has a crunchy, less spicy and tangy taste. The unripe green capsicum is biter in taste while orange and yellow capsicums have a sweet and tasty flavor.
Cuisine use: It is mostly use in Chinese preparation to decorate food items and to enhance the food flavor. This vegetable is artificially synthesized to produce paprika and chili pepper, which are used to add flavor in cuisine sometimes added in soups to treat respiratory illness as home remedy. Its capsules are also available in market as dietary supplement as well.
Nutritional Profile
| | | |
| --- | --- | --- |
| Nutrition | g/mg | percentage |
| Total fat | 0.2 | 0% |
| cholesterol | 0mg | 0% |
| Total Carbohydrate | 9 g | 3% |
| Monounsaturated fat | 0g | |
| Polyunsaturated fat | 0.1 g | |
| Saturated fat | 0g | 0% |
| Potassium | 340 mg | 9% |
| Protein | 2g | 4% |
| Dietary fiber | 1.5 g | 6% |
| Sugar | 5g | |
| Sodium | 7 mg | 0% |
| Vitamin A | | 23% |
| Vitamin C | | 404% |
| Magnesium | | 6% |
| Calcium | | 1% |
| Vitamin B-6 | | 15% |
| Vitamin D | | 0% |
| Vitamin B-12 | | 0% |
| iron | | 6% |
13 Amazing Health Benefits of Capsicum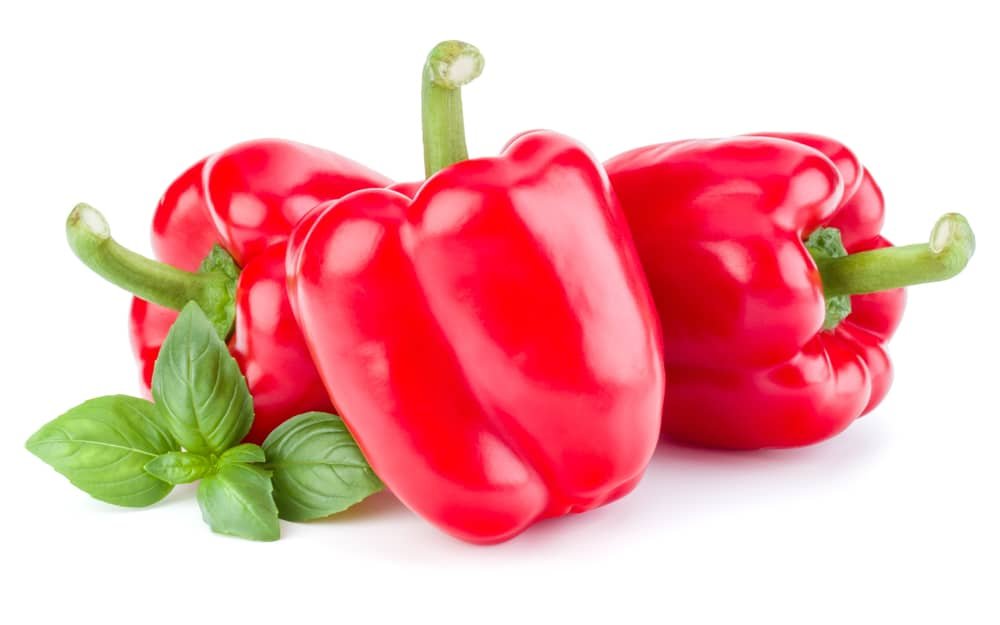 1. Treats Anemia
Our bone marrow needs iron to make RBCs to prevent the body from iron deficiency. As capsicum is the rich source of iron, which is present in the form of vitamin C – adding foods that contain a lot of iron in your diet, such as capsicum helps you steer clear of the iron deficiency syndrome, which can in turn lead to fatigue, dizziness and lack of focus.
2. Improves Your Eyesight
Apart from the fact that you can use capsicum in a variety of culinary delights, its nutrients are good for your eyes too. People crossing their 50s are more susceptible to age related macular degeneration a variety of other eye related problems. However, incorporating capsicum regularly can help you prevent falling prey to the symptoms associated with cataracts. Capsicum can also help you steer clear of macular degeneration as it contains plenty of vitamin C and carotenoids.
3. Hair Growth
Capsicum helps regulate blood flow to your scalp. It strengthens your hair follicles by preventing them from being damaged due to dehydro-testosterone.
By applying capsicum and carrot on your scalp, you can enhance your hair growth. Take few slices of capsicum and boil it for few minutes, then apply the cool extract on your head. Leave it on for 15 min then wash it off with water.
Vitamin C in capsicum is essential for hair growth and will help all the iron to be properly absorbed into the scalp, leading stronger and shinier hair.
4. Improves Immunity
As described earlier, capsicum contains a lot of vitamin C, which is what  promotes the development of white blood cells of your circulatory and the immune system. It is packed with antioxidants and beta carotenes that provide strength to the immune system and defend your body from bacterial and viral infections. This natural herb acts as defender and guards you from intestinal disease such as diarrhea, stomach ulcers and dyspepsia.
It removes toxic substances from your bodily tissues. It also contains vitamin K, which prevents the body from bleeding out in case of wounds and bruises – helping you to heal faster. Capsicum helps reduce the risk of joint damage and arthritis, maximizing your bone health.
5. Skin Care
The presence of photochemicals and antioxidants in capsicums keep your skin nourished and young. Consuming capsicums and carrots on daily basis clear rashes and blemishes as they both are rich in iron.
Toxic substances and the pollutants are the root causes of unhealthy skin. But a high amount anti-oxidant in capsicums prevents the skin from the harmful impact of free radicals. It also reduces the early symptoms of ageing and keeps your skin beautiful and young.
6. Reduce Inflammation and Swelling
Capsicum is also used to manufacture joint relieve and skin products, specifically moisturizers and topical analgesics and whatnot.  Although capsicum can cause a burning sensation on the skin if applied as a moisturizer it is also known to combat crohn's disease, which is peripheral neurologic pain. The presence of phytochemical compounds in capsicum is responsible to produce an anti-inflammatory response.
Those who completely rely on Ayurvedic medicine can apply capsicum balms to get relive from arthritis and in some serious infection.
7. Maintain Heart Health
The presence of vitamin B6 and folate helps lower the level of homocystein, which is a major contributor to cardiovascular illnesses. The compounds found in capsicum such as fiber and lycopene helps reduce the level of fat in your body. Potassium in capsicum is also responsible for maintaining adequate blood pressure.
Being a stimulant, it dilates your blood vessels and prevents the arteries from accumulating fat, thus helping relieve symptoms of vessels congestion, boosting your metabolism. It also inhibits the formation of plaque in your arteries.
8. Combat Cancer
It lowers the risk of cancer due to its anti-inflammatory and antioxidant properties. Cancer causing chemicals and chronic inflammation leads to gene mutation, which deforms and kills healthy cells in your body. Capsicum helps you fight cancer. It contains an enzyme known as Pectolyte, which helps prevent gastric, carotenoid, pancreas and lung cancer symptoms from developing.
9. Forms Mucilage
Tannins in capsicum act as an astringent, which helps your gut to eliminate enteric pathogens that are responsible of gastrointestinal ailments. It prevents the formation of peptic ulcers with the aid of gastric mucilage.
10. Prevents Obesity
Incorporating capsicum in your diet plan can help you avoid overeating because of the fiber content, which keeps you full for longer. It speeds up the metabolic activity that breaks down food into digestive juices – promoting better digestion while preventing problems like gas, stomach cramps and other digestive issues.
11. Hypoglycemic Medicine
Research shows that it regulates the production of insulin and lowers blood sugar levels and helps treat diabetics. Green capsicums are more beneficial for hypoglycemic conditions, but this research has not yet concluded any solid facts.
12. Respiratory Illness
Flavonoids in capsicum are effective for combating respiratory illnesses such as wheezing, emphysema, asthma and lung infection. Drinking capsicum juice is essential for reducing sore throat infection. Its antiseptic property also defends you from various infections.
13. Reduce Calories
This vegetable increases your metabolic process by its thermogenic action while lowering triglyceride levels, which helps reduce the level of cholesterol in your system, improving your immune system.
Conclusion
There is no such adverse effect of capsicum, although the good amount of vitamins in this vegetable has many beneficial impacts on body.