15 Health Benefits of Orange Juice
Orange Juice health benefits includes preventing cancer, fighting free radicals, boosting immunity, detoxifying the body, fighting inflammation, supporting liver health, supporting blood circulation, reducing high blood pressure, helps in natural cure, preventing ulcers, support weight loss, enhancing youthful look, relieving diabetes, preventing kidney stones and treating rickets in children.
What is Orange Juice?
Extracted from orange, orange juice is one of the most widely consumed fruit juices in America. Yet, many people underestimate the health advantages of oranges and how fail to benefit from its nutritional content.
Research confirms that drinking orange juice every day offers multiple benefits. Thanks to its protective effect, the juice contains high levels of flavonoids and many anti-inflammatory properties. Here are 15 incredible benefits of drinking orange juice regularly.
15 Impressive Health Benefits of Orange Juice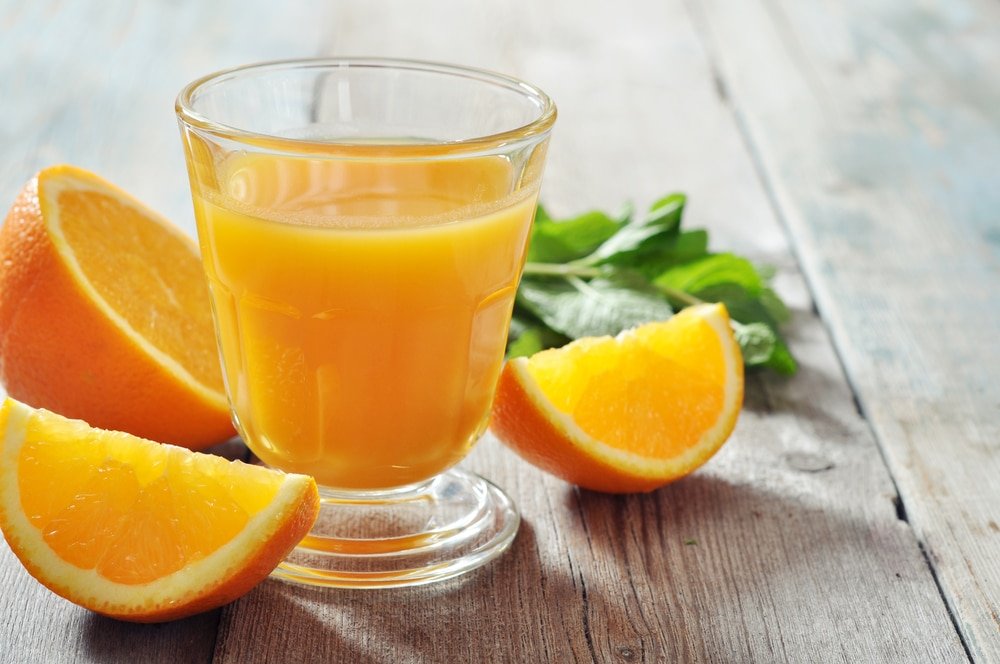 1. Rich Source of Vitamin C
By consuming at least two glasses of orange juice every day, we can boost our vitamin C intake. Since this is a crucial vitamin that cannot be produced by the human body, it is important to include as many sources of vitamin C as we can to protect our body against the effects of free radicals.
Free radicals are molecules that cause premature aging and tissue damage.
Hence, making orange juice a regular item in our breakfast or diet can ensure we successfully combat free radical damage.
2. Prevents Cancer
Since vitamin C serves as an antioxidant; it also functions as a shield against many types of cancers. This is why orange juice is recommended to keep the DNA of healthy cells from turning to cancerous cells.
The juice also contains hesperidin, which is another important antioxidant that is linked to reducing the growth of tumors. Although more research is required before validating the exact effects of orange juice to prevent cancers; the antioxidants present in it are likely to prevent many types of cancer, particularly colon cancer.
3. Boosts Immunity
Oranges are known for their powerful healing properties. This is why orange juice is given to patients or individuals who are recovering from an injury. Since a single serving of the juice offers more than 200% of the vitamin C requirement of the body, it is safe to assume that orange juice is an effective way to fortify our immune system.
The juice also contains ascorbic acid, which is one of the basic components of collagen. Since collagen plays a crucial role in repairing cells and for good growth of new tissues in the body; orange juice also plays its role in delaying premature aging.
4. Detoxifies the Body
Orange juice also contains vitamin A, which serves as a moderate antioxidant. Moreover, the juice helps to detoxify the boxy since it supports good kidney functioning.
Vitamin A is also linked with good eye health. This is why orange juice is consumed with carrot juice to maintain good eyesight.
Consuming orange juice regularly also prevents the onset of many eye diseases such as macular degeneration.
5. Anti-Inflammatory Properties
We all know how citrus fruits serve as anti-inflammatory agents to reduce inflammation. Similarly, oranges also play a vital role in relieving inflammation. High fat and sugary meals result in the inflammation of various parts of the body. Since this also leads to other serious diseases such diabetes, it is important to tackle inflammation before it triggers other complications.
Research proves that orange juice is potent to protect the heart and promotes good heart health. Moreover, the juice also prevents the likelihood of developing diabetes.
6. Helps the Liver
Drinking orange juice is also beneficial for the liver since it prevents poor digestion and the fermentation of food resulted by a bad liver.
7. Supports Blood Circulation
Orange juice also has folate, which is a member of the B complex family. In reality, it is vitamin B9 that is crucial for the growth of new cells and the creation of DNA.
Moreover, folate also guards your cells from being mutated to prevent the damage caused by free radicals. Since folate plate a great role in the production of new red blood cells and stimulate the blood flow to the extremities, the organ systems in our body are able to work at their full capacity. As the body remains well-oxygenated, it performs with more efficiency and fewer problems.
8. Reduces High Blood Pressure
The antioxidant Hesperidin present in the orange juice guards the body against many forms of cancers and diseases. However, another function of this incredible water-soluble plant compound is to ensure a smooth functioning of small blood vessels.
Having this juice regularly has an overall positive impact on maintain good blood pressure levels. This activity decreases the chances of developing heart complications due to an elevated blood pressure.
9. Healing Benefits
Another great benefit of this juice is that it has tremendous healing capabilities. Since orange juice has several anti-inflammatory properties, the flavonoids work incredibly to heal pain and stiffness in the entire body. Hence, consuming orange juice is a natural cure for arthritis.
10. Prevents Ulcers
Most types of ulcers appear in the stomach and small intestine. These ulcers lead to severe cases of constipation. Consume orange juice regularly to stimulate the digestive system and prevent the formation of ulcers.
11. Helps in Weight Loss
You must have observed that this juice is a part of many weight loss programs. As orange is a citrus fruit, its juice is widely used by people who intend to lose weight the natural way by avoiding artificial sweeteners.
12. Guarantees a Younger looking Skin
Consuming this juice regularly prevents aging signs and keeps the skin younger looking. Moreover, the vitamin C in orange juice guards the skin from damage caused by free radicals.
If you want to maintain the freshness of your skin, turn to this juice and say no to other beverages.
13. Relieves Diabetes
Thanks to orange juice and its diuretic properties, it regulates excess sugar in the body. This is why it is recommended to patients who suffer from diabetes to reduce the negative outcomes of the medical condition.
14. Prevents Kidney Stones
People who have experienced kidney stones know how painful this condition is. This is why sipping this juice is beneficial in preventing kidney stones. The potassium citrate present in oranges prevents the formation of kidney stones and relieves a large number of kidney problems.
15. Treats Rickets in Children
Rickets is a common disease among children. As they have soft and weak bones, the many minerals present in orange juice successfully prevent the development of rickets in children. Consuming orange juice regularly also helps to treat many other disorders and relieve their symptoms.
Bottom Line
Like all other juices and beverages; it is important that you consume it in moderation.
Avoid buying orange juice products that are high in sugar content. The best way to make it is to squeeze fresh oranges to form a pulpy juice. Although there are no known harmful intestinal problems or allergies that are triggered by orange juice; do not go overboard. Excess amounts of orange juice can lead to migraines or acne outbreaks.