Detox Water: The Top 14 Recipes for Fast Weight Loss
If you have ever had the urge to cut down on your weight and found that going to the gym and exercising hasn't proven to be as fast as you thought, you need to understand something pretty important. The very first is that exercise alone can never give you the ripped figure you desire. You need to have a balanced diet in order for the exercise to be effective otherwise eating like you usually do would get you nowhere. There are many anti-inflammatory foods available in the market and all you need is to do some research.
The second and the most important thing is you need to hydrate properly. Whether it is summer or winter, if you find yourself at the gym for 2 hours a day, you need to keep your water levels up. Why this is important is because water helps your metabolism work more efficiently. Food can be broken down faster and your cells can work smoothly if your drink about 4 litres of water every day.
Water therefore is an essential part of weight loss. Detox water however, is an even better way of losing weight and getting rid of all the toxins in your body. Imagine being acne free and having tighter skin just because you given drinking sugar drinks and colas and now drink a precise amount of water recommended by medical scientists.
Here are the top 14 recipes for detox water that can help reduce weight.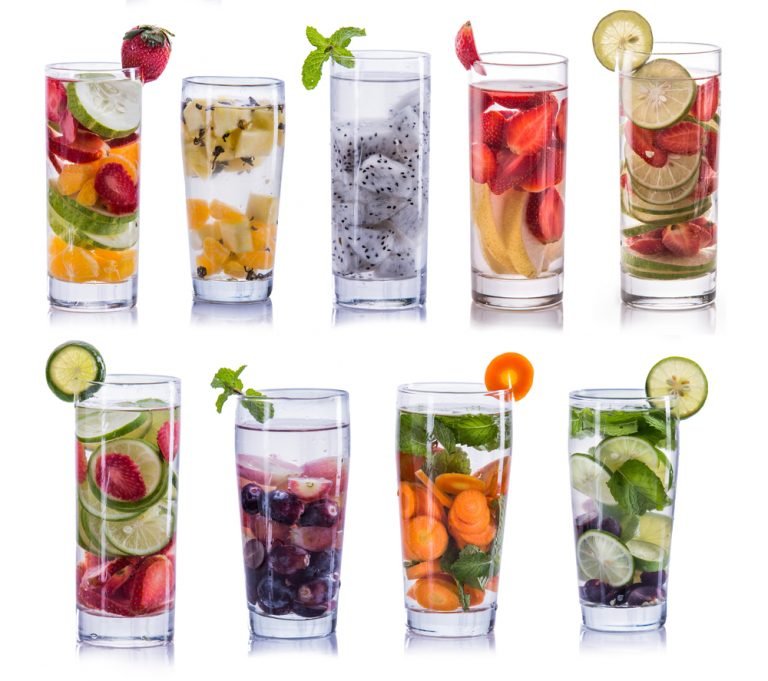 1. Apple Cinnamon Detox Water
This old spa recipe has helped freshen up people for a long time. This detox recipe is known for its amazing taste as well as its healing properties for the stomach as well as the skin. It also helps relieve you of hypertension and heart disease making it an excellent health choice.
2. Slim Down Detox Water
It is a popular choice amongst many people around the world. All you need to make this detox water are a couple of cucumbers and a grapefruit. It revitalizes your organs and gives you a healthy dose of vitamin C.
3. Blueberry and Orange Detox Water
This detox water looks amazing and tastes even better. It will flush your metabolism of all toxins and leave you feeling revitalized. People love to drink water mixed with blueberries and oranges as they taste unique and are healthy at the same time.
4. Watermelon and Strawberry Mint Detox Water
Cut a watermelon into 4 cups and mix them with a few strawberries and some mint to make this detox water. You will need to put the water in the fridge for approximately 4 hours before you can finally drink it. It is a wonderful antioxidant drink, a natural hydrant and nutritionally rich.
5. Mango and Ginger Detox Water
This is the perfect drink for the summer. It is refreshing and full of the amazing health properties of fresh mangoes. It boosts the metabolism and is easy to make. Simply chop down some ginger and mix it with mango cubes to make the drink.
6. Raspberry and Orange Detox Water
This is another drink that consists of berries and is popular amongst the kids. You might wonder why it should be substituted for normal water, but here's the thing. This detox water has an incredible amount of antioxidants that prevent inflammation or premature aging in young people.
7. The Old Cucumber Water
Perhaps one of the simplest and the most widely used detox water on the planet, cucumber water is extremely healthy for just about everything in your body. From your gums to your skin and to your stomach, cucumber water helps rejuvenate parts of the body damaged due to inflammation. In addition, drinking a lot of cucumber water can help heal your brain cells and shield it against bacterial infections.
8. Lemon Berry Detox Water
Lemons are available just about everywhere around the planet, which is why making this detox drink is so easy. The tricky part is the berry you need to put in the water before drinking it. Since lemons are sour in taste, many experts recommend you choose blueberries as they coincide with the flavours and make the water tastier.
9. Strawberry, Mint and Lemon Detox Water
You can always experiment around with vegetables and fruits available in your home. That is exactly how this detox water was made in 2013. Not only do you get a huge dose of vitamin C, but you also get a minty fresh flavour from it. Moreover, the drink also seems exquisite when you look at it.
10. Blueberry and Lavender Detox Water
Lavender is an edible flower that has special nutritional benefits. Mixing it with blueberries to form a drink adds the extra benefit. Blueberries are excellent antioxidants and are found to be quite delicious when consumed with this flower.
11. Apple Cider Vinegar Soda Detox Water
Another delicious and refreshing invention, this detox water has a lot of ingredients therefore increasing its nutritional benefits as a whole. It helps rid your stomach as well as other toxin infested areas and helps you lose weight by boosting your metabolism. Apple cider vinegar itself has been known to possess weight cutting qualities.
12. Strawberry Detox Water
If you love strawberries, this is just the drink for you. Strawberries contain anti-inflammatory properties that help treat inflammation. They also help reduce muscle soreness because of this quality, which is why people are often seen drinking this drink in health spas.
13. Lemon Lime Detox Water
This natural fat burning recipe has all the ingredients you need to stay healthy. All you need to purchase are a couple of lemons and make some lime juice to add into a jug of water. The more you drink the more calories you burn in the process.
14. Pineapple and Orange Infused Water
This is a perfect tropical drink that is fun to make and easy to take on vacations. Drinking this detox water while exercising will help you lose weight, keeping you fit and motivated.